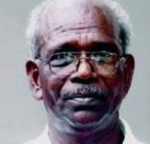 A local court on Monday rejected the bail plea of senior Communist Paryt of India-Marxist leader M M Mani, arrested in connection with a three-decade-old political murder case which was re-opened in the wake of a controversial speech made by him.
District judge K Ramakrishnan turned down Mani's plea on the ground that the investigation was in the preliminary phase and granting bail at this juncture could affect its course.
Mani's counsels, however, said the arrest of Mani was illegal.
The prosecution held that Mani was an influential political leader and could influence the probe if he was granted bail.
Mani was arrested and remanded to judicial custody on November 21 and sent to the sub-jail in Peerumade in Idukki district after he refused to comply with the police notice to appear for a polygraph test in the case. He will be produced in court on Tuesday on expiry of his remand period.
Mani had sparked a raging row, which put the CPI-M on the defensive, by stating his party had in the past drawn up a list of some political foes to be eliminated and executed it.
Following this, the police registered a criminal case against him and two other party activists by re-opening the murder of Indian National Trade Union Congress activist Anjery Baby 30 years ago.
Mani's revelation came at a time when the CPI-M was under a cloud following the brutal murder of CPI-M rebel leader T P Chandrasekharan at Onjiyam in Vatakara.
But the central and state leadership has repeatedly asserted that physical elimination of rivals has never been its policy. His speech had been roundly condemned by various political parties and forced the CPI-M to remove him from the powerful post of district secretary and suspend him from the state committee.