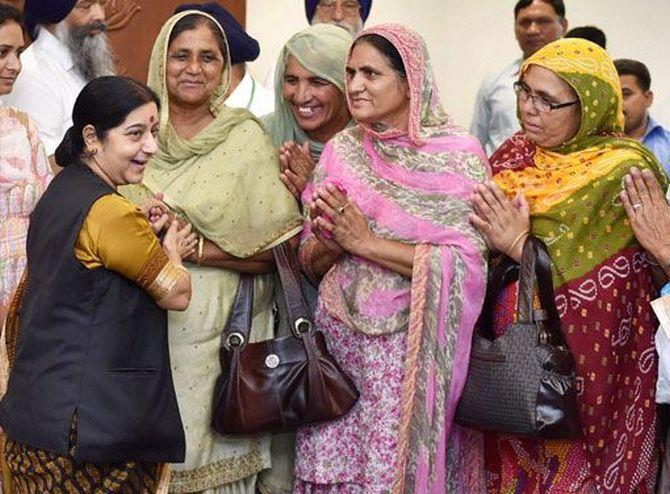 IMAGE: External Affairs Minister Sushma Swaraj met the families of some of the workers abducted in Iraq in New Delhi in June 2014. Photograph: PTI
The MEA insists the hostages are alive, but the families have grown tired of these assurances. They are clueless and so, it seems, is the government. Rashme Sehgal reports for Rediff.com
The government seems to have washed their hands of the 39 Indian hostages kidnapped by Islamic State (Da'esh) a year-and-a-half ago. Why else is there complete silence from the ministry of external affairs on this issue?
Families of these 39 victims, the majority of whom hail from Punjab, are convinced that the government has failed to secure their release primarily because they belong to a poor socio-economic strata and because no powerful political voice has spoken out in their support.
A bitter Manish Kumar, whose family has two members -- his brother Harish Kumar and brother-in-law Malkit Singh -- hostage, believe these 39 victims fall under the category of 'low value assets' for whom the government is not willing to extend itself.
Manish cites the example of the 46 Indian nurses who were captured by Islamic State.
"We know that a great deal of pressure was exerted on the Narendra Modi government by the Kerala government led by its chief minister Oomen Chandy who flew down and had a meeting with the prime minister," says Manish.
"While no ransom money was said to have been paid by the government, we believe these nurses would not have been freed without a large monetary exchange having taken place," Manish adds.
The 39 families have had five meetings with Punjab Chief Minister Parkash Singh Badal at his sangat darshans and with his daughter-in-law, Union Minister of Food Supplies Harsimrat Kaur to appraise them of the situation.
The Punjab government is giving each family relief of Rs 20,000 per month. But the families say the state government should have exerted more pressure on the MEA on this issue.
"What is the point of the MEA confirming to us repeatedly that the hostages are alive when no concrete steps have been taken to secure their release?" asks Manish.
"I have met External Affairs Minister Sushma Swaraj nine times. She has shown our group telegrams that her ministry has received from the Indian embassy in Iraq confirming that these men are alive, but 18 months later what consolation can these pieces of paper bring for us? We want clarity on whether they are alive or dead," he says.
During his visit to Palestine -- Manish and the other families were informed -- President Pranab Mukherjee discussed the condition of Indians who were taken hostage in Iraq with his counterpart, Mahmoud Abbas.
The Palestinian president communicated to Mukherjee that his government's sources had indicated that these men were alive. The same was communicated to Prime Minister Narendra Modi by President Abbas when they met in New York this September.
"If Turkish intelligence could free 49 Turks who were taken hostage," asks Devendra Singh, whose brother Gobinder Singh Rana is a hostage, "why have our intelligence forces failed to do the same?"
Most of these men paid large sums of money to agents to get a visa to work in Iraq.
"My brother took a loan of Rs 1.5 lakh (Rs 150,000) from a bank to work in Iraq," says Devendra. "In 2013, when he went there, there was no fighting there. The situation began to deteriorate the following year. In June 2014, he was working in Mosul under the protection of the Iraqi army when IS attacked."
"The Iraqi forces fled and the Indian workers who stayed behind were captured. For two days after their capture on June 11, they continued to talk to us. It was on the third day that their phones were taken from them after which there has been complete silence," he adds.
The family of Manjinder Singh, a construction worker from Bhoiwal, Amritsar, is beginning to lose hope. Gurpinder Kaur, a school teacher and Manjinder's sister, says "The ministry does not even answer our phone calls anymore. We don't know what to do and where to look for my brother."

Like most of the other Punjabi construction workers caught in this IS nightmare, Manjinder was exploited by an agent, in his case it was an agent who had an office in Fathegarchuriyan, who promised him a job in Dubai with a stopover at Baghdad.
"The construction company in Baghdad took his passport away and he was forced to stay on in Iraq. If his passport had not been taken away, he would definitely have returned home," says Kaur. "When we tried to locate the agent, we were told he had fled to Dubai."
Manjinder was hoping to earn money for the treatment for their mother who suffers from cancer. Kaur spoke to her brother on June 11, 2014 and then again on June 15.
Sources in the MEA point out that Indian diplomats in Iraq had contacted several groups of interlocutors including the Iraqi Red Crescent Society and local tribal leaders to negotiate the hostages' release. The bombing of IS locations by Russia, France and Britain has reduced the chances of these Indians returning alive.
Six months ago, these 39 families held a month-long dharna at Jantar Mantar in New Delhi. They called off the protest after receiving an assurance from Swaraj that she would leave no stone unturned for thee hostages' safe return.
Two Bangladeshi labourers were also kidnapped with the Indians. One of them claims he saw these Indian workers being gunned down by their captors. He claims he and another Bangladeshi escaped by pleading they were Muslims.
But his account had several loopholes. It was following his claims that Swaraj went public to state on the MEA Web site that 'Till date we have no evidence if they are alive or dead. But due to the efforts we are putting in, we have been informed by many sources that they are still alive. And we believe the information is true, so we are still searching for them. We have deployed our full resources to resolve this issue.'
MEA Spokesperson Vikas Swarup insists that as far as the government is concerned these hostages are alive. But the families -- despairing parents, grieving wives, worrying siblings, and children -- have grown tired of the assurances. They are clueless and so it seems is the government.
All sides are in for a long haul with little hope in sight.