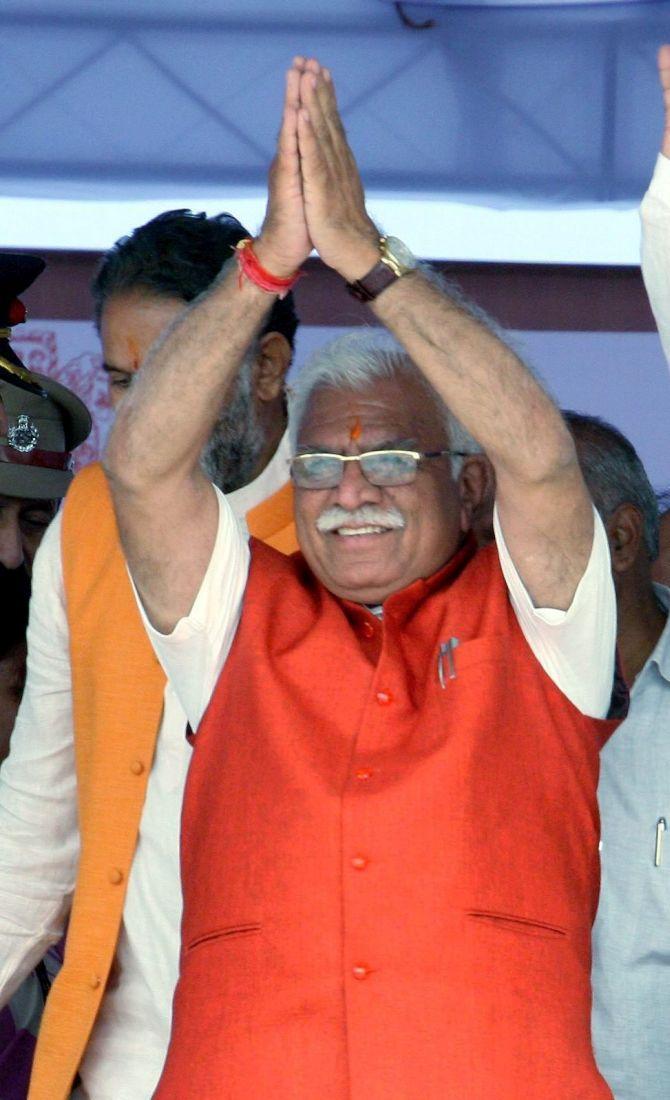 ML Khattar acknowledges the crowd after taking the the oath of office. Photograph: PTI photo
Manohar Lal Khattar, a low-profile organisation man with active Rashtriya Swayamsevak Sangh background, was sworn in as chief minister of Haryana on Sunday where BJP has formed government for the first time on its own.
60-year-old Khattar, a first-time MLA from Karnal and a non-Jat leader known to be close to Prime Minister Narendra Modi, was administered the oath along with nine ministers by Governor Kaptan Singh Solanki at a function attended by a galaxy of BJP leaders including the PM, party chief Amit Shah, union ministers, chief ministers of BJP ruled states and veterans L K Advani and Murli Manohar Joshi.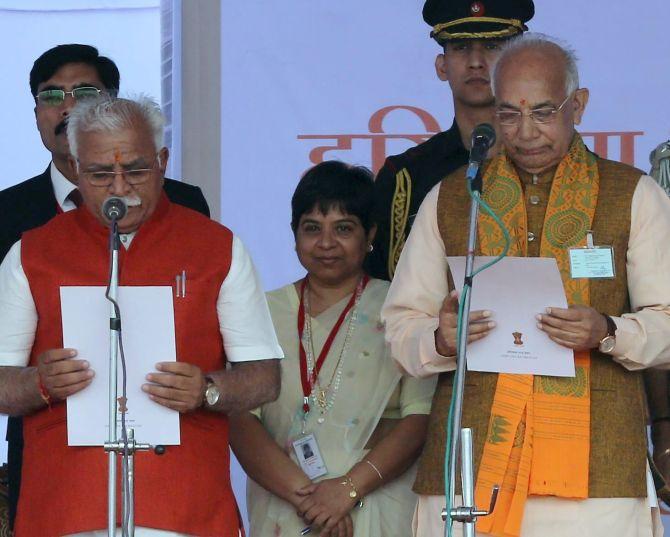 ML Khattar taking the oath of office administered by the governor. Photograph: PTI photo
The six cabinet ministers are Kavita Jain, state BJP president Ram Bilas Sharma, Abhimanyu, Om Parkash Dhankar, Anil Vij and Narbir Singh. Three others -- Vikram Singh Thekedar, Krishan Kumar Bedi and Karan Dev Kamboj—are ministers of state (independent charge).
Read: Manohar Lal Khattar: RSS pracharak to Haryana CM
Punjab Chief Minister Parkash Singh Badal, whose party Shiromani Akali Dal had opposed the BJP during the assembly elections despite being an National Democratic Alliance constituent, also attended the ceremony.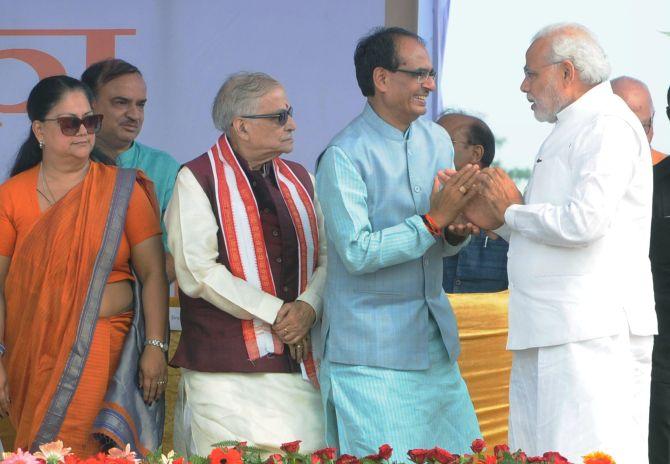 Rajasthan CM Vasundhara Raje, senior BJP leader Murli Manohar Joshi and Madhya Pradesh CM Shivraj Singh Chouhan with PM Narendra Modi at the swearing in. Photograph: PTI photo
Among union ministers who were present were Home Minister Rajnath Singh, External Affairs Minister Sushma Swaraj, Power Minister Piyush Goyal, Food Minister Ram Vilas Paswan, Minister of Shipping and Transport Krishan Pal Gujjar, Minister of Women and Child Development Maneka Gandhi, Minister of State of External Affairs V K Singh and Minister of Chemicals and Fertilizers Ananth Kumar.
Chief ministers of BJP ruled states including Madhya Pradesh's Shivraj Singh Chouhan, Vasundhara Raje from Rajasthan and Gujarat CM Anandiben Patel were also present on the occasion.
In a departure from the past, the oath-taking function was held at Panchkula instead of Chandigarh, the common capital of both Haryana and Punjab.
Khattar is Haryana's first non-Jat chief minister in nearly two decades. Jats have for long dominated politics in the state.