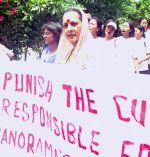 Communist Party of India (Marxist) leader Brinda Karat along with 400 social activists were on Tuesday booked on charges of preventing officials from discharging duties and assaulting policemen during a protest march in Rohtak.
According to a police spokesman, "The protesters, led by Brinda Karat, attacked the policemen when they tried to stop them from proceeding towards mini secretariat outside Civil Lines police station near Ambedkar Chowk here yesterday."
"Some policemen and women sustained injuries in the assault while the protesters had not taken any prior permission from the authority concerned to take out protest march in the city," said the spokesman.
As many as five persons, including three women, were injured on Monday when police resorted to baton-charge on the protest march, led by Karat, against sharp rise in crime against women in Haryana.
Meanwhile, Haryana State secretariat of CPI (M) has strongly condemned the police baton-charge on women.
In a release, Inderjit Singh, the state secretariat of the party, said stopping and beating the procession led by distinguished personalities of Indian women movement and family members of rape victims was shameful and deserves all round condemnation.
"How the aggrieved women can be intercepted by the police from submission of a memorandum to the Haryana chief minister through DC in a democratic set up. Hence the party demands that the police officers responsible for unprovoked action must be punished and cases against several innocent protesters be withdrawn," said the secretary.
© Copyright 2023 PTI. All rights reserved. Republication or redistribution of PTI content, including by framing or similar means, is expressly prohibited without the prior written consent.