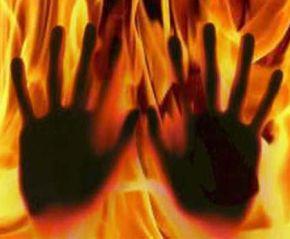 Under attack from the Opposition and ally Lok janshakti Party, the Haryana government on Wednesday recommended a Central Bureau of Investigation probe into the burning alive of a Dalit family in Faridabad by upper caste perpetrators which left two toddlers dead.
Villagers of Sanped, the scene of the ghastly crime, staged protests thorough the day with the bodies of two-and-a-half-years-old Vaibhav and 11-month-old Divya before the administration persuaded them to lift a road blockade and perform the last rites of the little children.
"Chief Minister Manohar Lal Khattar has recommended a CBI probe in the incident. A special investigation team has also been formed which is headed by Deputy Commissioner of Police Puran Chand," Khattar's media advisor, Amit Arya said in Chandigarh.
He said four of the 11 accused have been arrested so far. The government has announced Rs 10 lakh as compensation and a job to the victims' family, he said. The situation in the village, some 35 km from the national capital, turned volatile when the bodies where brought home.
Amid the pervading gloom, wailing relatives received the body. However, the sombre atmosphere soon turned volatile as scores of slogan-shouting dalits, walking hand in hand, carried the bodies, placed it on the Delhi-Agra highway and blocked the traffic.
The police had to used "mild" lathicharge to clear the highway after which the protesters jammed a bypass. Khattar, who was to visit the village today, postponed it for Thursday, apparently because of the protests.
While Vaibhav and his sister Divya had perished in the blaze allegedly set off by some upper caste people who had a running feud with their family on the intervening night of
October 19-20, their mother Rekha, 28, suffered serious burns and is battling for life in a Delhi hospital.
Their father Jitender, 31, also received injuries while trying to save them.
The killers were alleged to have poured petrol into their house from an open window and set it alight after locking the doors from outside.
As tempers ran high, Congress vice president Rahul Gandh visited the village where he accused the prime minister, the Harayana chief minister, the Bharatiya Janata Party and the Rashtriya Swayamsevak Sangh of practicising "politics of crushing" those who are weak which results in such incidents.
"This is an attitude shared by the prime minister, chief minister of the state and the entire BJP and the RSS. The attidute is if somebody is weak, he can be crushed. What you have seen is the result of this attitude," Gandhi said after meeting the distraught family members.
"In Haryana, there is no government for the poor and poor people are being targeted here which is totally wrong. I have assured the victims' family that I would do whatever they want from me including pressuring the government," he said.