The family of a 22-year-old youth has accused cow vigilantes of thrashing him to death after branding him a cow smuggler in Nuh district of Haryana, but the police said he died in a road accident.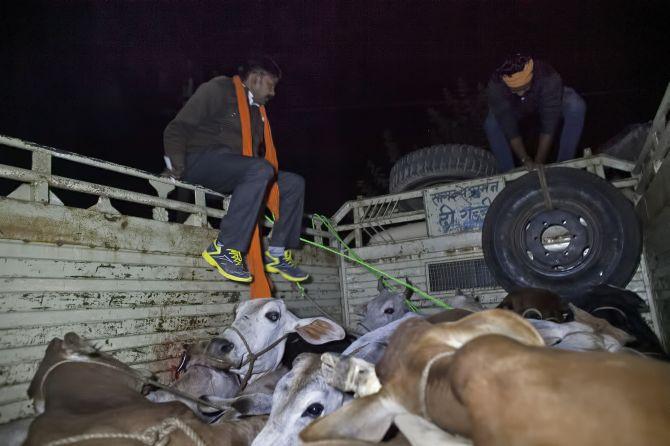 The police said they have registered an FIR under Indian Penal Code sections related to rash driving and death due to negligence after the death of Varis.
The incident took place near Khori Kalan village on Tauru-Bhiwadi road on Saturday at 5 am, when a Santro car with Varis and two others, Shokeen and Nafis, rammed into a tempo. A cow was also found in the Santro, they said.
Both vehicles were badly damaged and Shokeen and Nafis were also injured, they said.
The police said they filed an FIR based on a complaint by Abdul Karim, the driver of the tempo -- the other vehicle involved in the accident.
Post the complaint, the three men have also been booked under section 11 (of the Prevention of Cruelty to Animals Act) and section 13 (2) of the Haryana Gauvansh Sanrakshan and Gausamvardhan act 2014 at Tauru Sadar police station on Saturday, they said.
The police have also found a previous case of cow slaughter against one of the accused.
"We have found the previous criminal record of one of the accused, Nafis, and an FIR of cow slaughter already registered against him," Nuh SP Varun Singla said.
The family members have disputed the version and filed a complaint, alleging that Bajrang Dal activists who arrived at the scene thrashed Varis, leading to his death later.
A post-mortem has revealed that the cause of death was internal bleeding in the abdominal cavity due to rupture of the liver caused by a blunt force injury, sources said.
In his complaint filed on Sunday, Imran, the victim's elder brother, said that Varis was a car mechanic and had no involvement in cattle smuggling, the police said.
Imran told the police that Varis had gone to Bhiwadi on Saturday night to check a second-hand car for his two associates and was returning when the incident took place.
Other family members also alleged that the 'gau rakshaks' had also released a video which showed them torturing the three occupants of the van.
The police said they are investigating the claims by the family.
Monu Manesar, a cow vigilante and member of the Bajrang Dal, said, "After getting information I reached there and rescued the cow from their car. I went live on Facebook and also asked the name of one of the injured, but we did not hurt any of them."
He also claimed to have taken the injured to hospital.