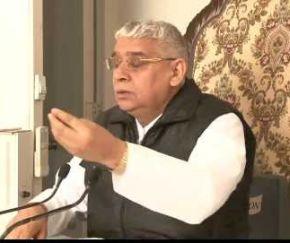 The Punjab and Haryana high court on Monday pulled up Haryana authorities after they failed to produce a self-styled godman, against whom a non-bailable warrant was issued last week in a contempt case, citing resistance by his followers.
Though Sant Rampal did not appear, his aide Ram Kumar Dhaka was arrested and produced in court.
The government's counsel said that Rampal could not be brought in court as women and children were sitting in front of his ashram at Barwala in Hisar district, resisting his arrest and the authorities wanted to avoid any violence.
The counsel submitted that a medical board had been constituted to examine Rampal. His counsel too contended that the medical board had been constituted to examine his client and its report was with the state government.
Anupam Gupta, who has been appointed Amicus Curiae, however, contended that it was contempt on the part of the state government, DGP and Home Secretary.
The division bench headed by Justice M Jeyapaul took exception to the constitution of medical board in the case and termed it as a 'tamasha' and an attempt by the government "to collude" with Rampal.
However, the court later reserved its order in the matter. The high court had issued non-bailable warrants against Rampal last week.
Meanwhile, volunteers of the ashram at Barwala near Hisar are "guarding" the building and a number of women and children are also sitting on the premises of the ashram.
Purushotam Dass, brother of the Rampal, had said on Sunday that the leader was ill and would appear in court after he recovers.
"We have respect for the court orders. Sant Rampal would appear in the court as soon as he recovers from his ailment," he had said.
Hisar district administration officials said they were trying to avoid any untoward incident.
The court last week had directed Haryana government to ensure Rampal and Dhaka appear before it on Monday.
Rampal, who had shifted his base from Rohtak to Barwala town of Hisar, has been charged with interfering in judicial proceedings during the hearing of a case before Hisar sessions court.
On July 15, his supporters had marched inside the district court complex in Hisar and tried to create trouble in the court proceedings.
The District Bar Association had launched an indefinite strike demanding rejection of Rampal's bail plea.
Thereafter, the HC had taken cognisance of the matter and issued notice to Rampal and Haryana government seeking their response.
In July 2006, during a clash with villagers, thousands of his followers had gathered in ashram and made it tough for police to reach Rampal to take him into custody in a murder case.
Again in 2013, when they tried to take possession of his ashram at Karontha village, a large number of followers went inside the ashram during the night and refused to leave which led to a clash in which two persons were killed and many others injured.
Meanwhile, heavy police deployment has been made in Panchkula and Chandigarh to prevent Rampal's disciples from taking law into their hands.
Image: Godman Sant Rampal.