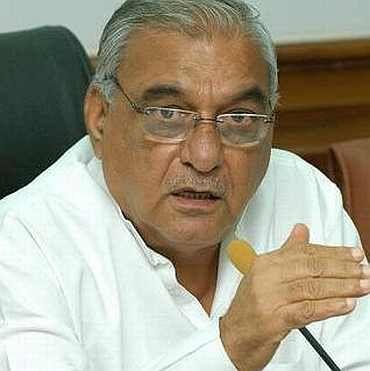 Senior Congress leaders from Haryana have asked for the resignation of Chief Minister Bhupinder Singh Hooda before the assembly elections in the state slated to be held by October this year.
The dissidence against the chief minister has been aggravated following the party's poll drubbing. The chief minister's son Deepender Singh Hooda's victory in Rohtak was the only victory the party secured in the state in the recently-concluded Lok Sabha elections.
With the party staring at the possibility of a similar fate in the upcoming assembly elections, Congress vice president Rahul Gandhi met senior leaders from the state -- former Union minister Kumari Selja, Chaudhary Birender Singh, Haryana Pradesh Congress Committee chief Ashok Tanwar and Chief Minister Hooda on Thursday morning. Shakeel Ahmed, the All India Congress Committee in-charge of the state, was also present.
In the presence of Hooda, both Selja and Birender Singh brought forth an entire list of the sins of omission and commission of the Hooda government with facts and information, which took Rahul Gandhi by surprise.
Hooda is said to have maintained silence on his part, not defending himself, while PCC president Tanwar appeared to have joined hands with the chief minister. Tanwar also did not speak much.
Chaudhary Birender Singh told Rahul Gandhi that the party was set to lose badly, so where was the harm in removing Hooda and giving another leader a chance to make matters better in the upcoming elections as the party had nothing to lose by making the change and going for this experiment.
Selja has been advocating a change of leadership for a long time now and has been asking the leadership to take a close look at Hooda since "he has lost the support of the people". But since Hooda has powerful backers in the party, he has been able to save his chair.
Rahul Gandhi, who found the meeting too hot to handle, asked Shakeel Ahmed to sit with the state leaders and workout a formula to resolve issues.
Image: Bhupinder Singh Hooda