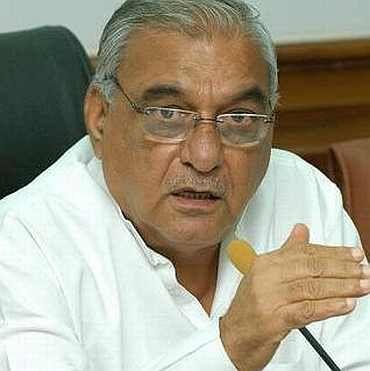 A day after Power Minister Ajay Singh Yadav's resignation, Haryana Chief Minister Bhupinder Singh Hooda on Wednesday hit out at his detractors, claiming their actions were guided by "vested interests".
The chief minister faced rebellion from the ranks ahead of the assembly polls, as Yadav on Tuesday attacked him for "failing to learn lessons" from the Lok Sabha election debacle.
Hooda, after having come under attack from his detractors, post the minister's resignation issue, on Wednesday, sought to downplay it (resignation issue) during a press conference.

"No one (party leader) is unhappy because of me, they (detractors) may say so because of their vested interest. They may be finding excuses, but I have cooperated with everyone," Hooda told reporters.
The Congress leader also refuted that there was any "political upheaval" in the state unit of the party.

"There is no such thing in the party, only some individuals may have vested interests," he said.

On Yadav's resignation, he said, "I have got his resignation and I have asked him to reconsider it. I am waiting for his answer," adding, the six-time Congress MLA from Rewari had not given any reason in his resignation.
Yadav while resigning from the Hooda ministry had also alleged "bias" in several matters including recruitment and induction of members to various commissions and statutory bodies.

"Whatever, I had to say, I have said it," Hooda said when asked that Yadav's allegation on regional bias in development works.
In a veiled dig at Yadav, he said, "Today on the eve of elections if someone says so (levels allegations), you can well understand."
To a question on Yadav's allegation that he (Yadav) was treated just like a "rubber stamp" and felt "powerless", Hooda said "what he says tomorrow, wait for that."

When asked that there were reports that many were waiting to desert Congress including senior leader Birendar Singh, who on Tuesday met BJP chief Amit Shah, Hooda said that in a democratic set up "one was free to pursue their wish".
About Birender's meeting with Shah, he said, "I have not talked to him. That is up to him".
He, however, said "Congress is strong, Congress is not going to defect, let's see who is going to defect".
On a number of senior leaders including Rao Inderjit having deserted the party in recent times, Hooda said Rao too was guided by "vested interests, which was proved when he got ticket from BJP."

When asked whether cabinet minister Kiran Chaudhary could resign from the cabinet, Hooda said, "There is no such thing. She is very much in the Congress and today I am going to attend a function at Bhiwani, in which she will also be present".
The Chief Minister asserted that there has been inclusive growth in the state.
"Anywhere you see, there has been inclusive and all-round development. This is no issue. But after ten years if someone sees that development has not taken place, it is because that person may have vested interests".

Meanwhile, responding to concerns raised by senior IAS officer Pardeep Kasni over administering of oath to the information commissioners by the Chief Minister, he claimed, "As far as administering oath to the information commissioners is concerned, that is all legal and constitutional. Due process has been followed and there are no irregularities in this."
"There has been no haste. We had started process in the beginning of the year by following due process," he said.
Asked why the oath of the commissioners had been done in a "hush-hush" manner and even media was kept out, Hooda said, "I never invite anybody. May be press people may have been busy with Governor's oath taking function. I will ensure when next such function is held, media is invited".

To a question about an alleged "objectionable SMS" from Chief Secretary S C Chaudhary to Pardeep Kasni, Hooda said, "That is between two friends and I have got nothing to do with the issue. You ask chief secretary, but I think he has already answered this...Whatever, two persons exchange, how am I concerned."
© Copyright 2022 PTI. All rights reserved. Republication or redistribution of PTI content, including by framing or similar means, is expressly prohibited without the prior written consent.