He will meet Uddhav Thackeray at his home and address Gujaratis all over the city, reports Rediff.com's Prasanna D Zore.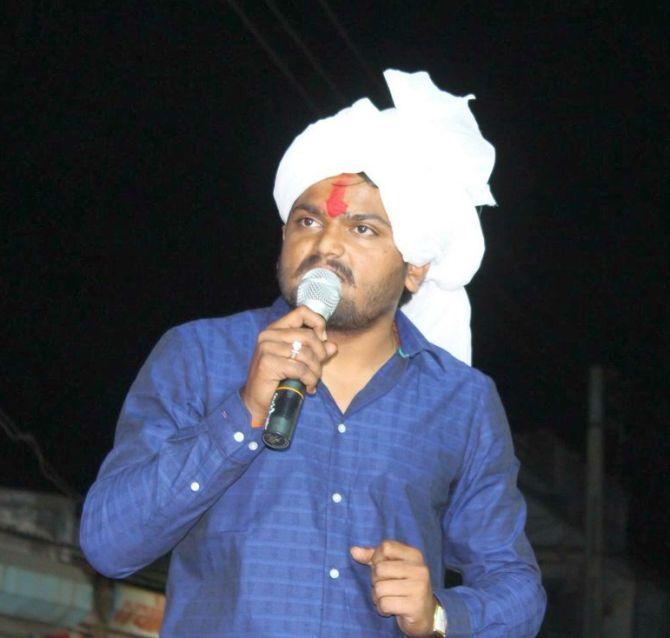 Ahead of the civic polls, Mumbai is all set for an interesting political duel between long-time partners, the Shiv Sena and the Bharatiya Janata Party.
While the BJP and Sena are levelling corruption charges against each other, Gujarat's Patidar leader Hardik Patel, who has vowed to destroy the BJP in the state, will attend a Sena rally in Goregaon, northwest Mumbai, on Tuesday.
Hardik will also meet Sena President Uddhav Thackeray at his home, senior Sena leaders confirmed to this correspondent.
The Sena has decided to contest the BMC and nine other civic elections in Maharashtra, which will be held on February 21, independently of its ally, the BJP.
The Sena is a part of the BJP-led governments at the Centre and in the state.
"Hardik will attend the Shiv Sena's rally in Goregaon on Tuesday. Later, he will pay a courtesy call on Uddhavsaheb at Matoshree (the Sena leader's home)," two senior Shiv Sena leaders said.
Both Sena leaders requested that their names not be mentioned in this report.
The Patidar Anamat Andolan Samiti, which Hardik Patel is a part of, has launched a massive agitation in Gujarat for the inclusion of Patels in the Other Backward Class category and demanded reservations in government colleges and jobs.
PAAS Convener and spokesperson Varun Patel told Rediff.com over the phone from Gujarat that Hardik will be in Mumbai to meet not only Patidars (as the Patels are also called) but all the Gujaratis in the city's predominantly Gujarati areas -- Borivali, Ghatkopar, Kandivali and Malad.
"He will be meeting people of the Patidar and Gujarati community who have invited him to express their solidarity and support for his fight against the injustice done to Patidars in Gujarat," Varun Patel said.
Varun Patel was categorical that the PAAS has no intention of supporting any political party anywhere in India.
The PAAS, he added, is getting support from across India in its bid to get reservations for Patidars.
He was tactful in his response to whether Hardik patel will share the dais with Shiv Sena leaders at the Goregaon rally or meet Uddhav Thackeray at his home.
"Hardik is no doubt the leader of Patidars in Gujarat and will be attending a number of rallies organised by various Gujarati organisations in Mumbai after his release from jail and his return to Gujarat on January 17 after spending six months in Rajasthan's Udaipur," Varun Patel said.
"Personally, he can attend the Shiv Sena rally as well as meet Uddhavji at his home," he added.
Hardik Patel, who led a massive agitation in Gujarat, spent many months in jail after the state government filed several cases including one of sedition against him.
He was released by a court last year on the condition that he would not enter Gujarat for six months.
He then moved to Udaipur in neighbouring Rajasthan from where he fired a number of salvoes against BJP President Amit Shah, who he labelled as Gujarat's General Dyer, and criticised Prime Minister Narendra Modi for ruling Gujarat by proxy and acting like a dictator.
Since his return to Gujarat on January 17, Hardik Patel has addressed several rallies and vowed to destroy the BJP in Gujarat.
His Mumbai visit and his meeting with Uddhav Thackeray is seen as the 23-year old firebrand leader's strategy to open multiple fronts against the BJP and weaken it politically across India, a political observer from Maharashtra felt.