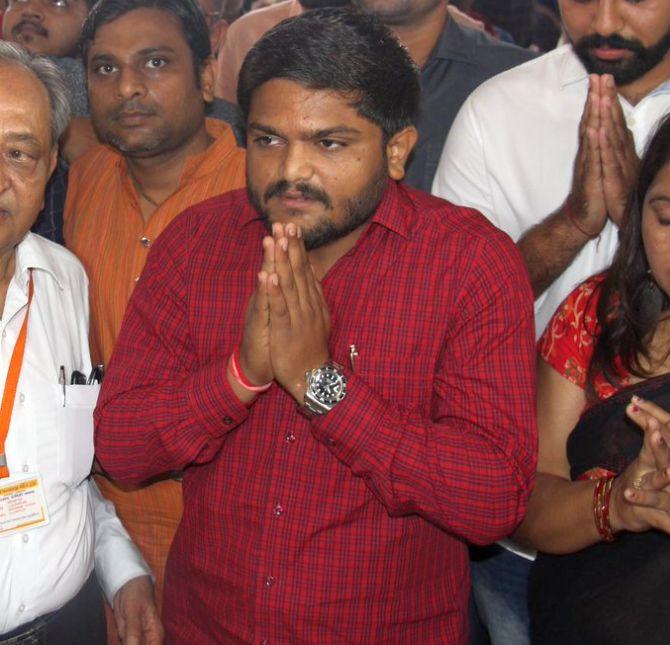 A Gujarat court on Wednesday sentenced Patidar quota agitation leader Hardik Patel and two others to two years imprisonment in a case of rioting and arson in Visnagar town in Mehsana in July 2015.
Later, Hardik Patel and his two aides -- Lalji Patel and A K Patel -- were granted bail by the same court.
Visnagar sessions court Judge V P Agarwal held Hardik Patel, Lalji Patel and A K Patel guilty under IPC sections pertaining to rioting, arson, damage to property and unlawful assembly.
The three were awarded two years imprisonment along with a fine of Rs 50,000 each, which the trio deposited in the court on Wednesday.
The other 14 accused were let off by the court for want of enough evidence against them.
From the penalty collection of Rs 1,50,000, the court ordered that Rs 10,000 be given to TV channel reporter Suresh Vanol, Rs 1 lakh to the owner of a car torched by the mob during violence and Rs 40,000 to local BJP MLA, Rishikesh Patel, towards damage caused to his property.
Soon after the court verdict, Patel tweeted in Hindi, "If it is a sin to fight for social justice and rights, then I am a sinner. If those who fight for the truth and rights are rebels, then I am a rebel. BJP's Hitlershahi cannot suppress my fight for truth, farmers, youth and poor by putting me behind bars."
The quota agitation leader said he is not daunted by the sentence as he is already walking in the shroud of death.
Asserting that he will continue to fight for the oppressed, he said jails do not scare him and he will remain unstoppable.
"I am not scared of jails. I should have stayed back home if it was my fight alone. But this is the fight of crores of poor people. My fate is to fight the oppressor and fight for rights. The more you suppress me, the more I will rise to pose a challenge," he said in a series of tweets.
Hardik, 25, was one of the accused in the FIR which was filed in Mehsana district on July 23, 2015, when a rally of the Patel community seeking reservation turned violent in Visnagar, resulting in damage to property and assault on some media persons.
During the violent agitation, the mob had torched a car and vandalised the office of local BJP MLA Rishikesh Patel.
A rally of more than 25,000 people of the Patel community demanding reservation was then at the initial stage of quota movement in Gujarat.
At that time, Hardik Patel was not a known figure and was one of the foot soldiers of Lalji Patel, who is the president of the Sardar Patel Group (SPG), a quota agitation body.
The rally in Visnagar was the first prominent event of the quota movement when Hardik Patel came into limelight.
As per the case details, when the rally reached near the office of MLA Patel, some Patidar community members tried to meet him to hand over a memorandum of their demands.
However, when they did not find the MLA in his office, they got angry and ransacked his office.
It was also alleged that protesters had torched a car parked on a road in the area.
Some media persons were also attacked by the mob at that time.
The complainant in the case was TV channel reporter Vanol, who was brutally thrashed by those present in the rally.