Patidar leader Hardik Patel unveiled his "will" on Sunday, the ninth day of his indefinite fast demanding reservation for the community and farm loan waiver.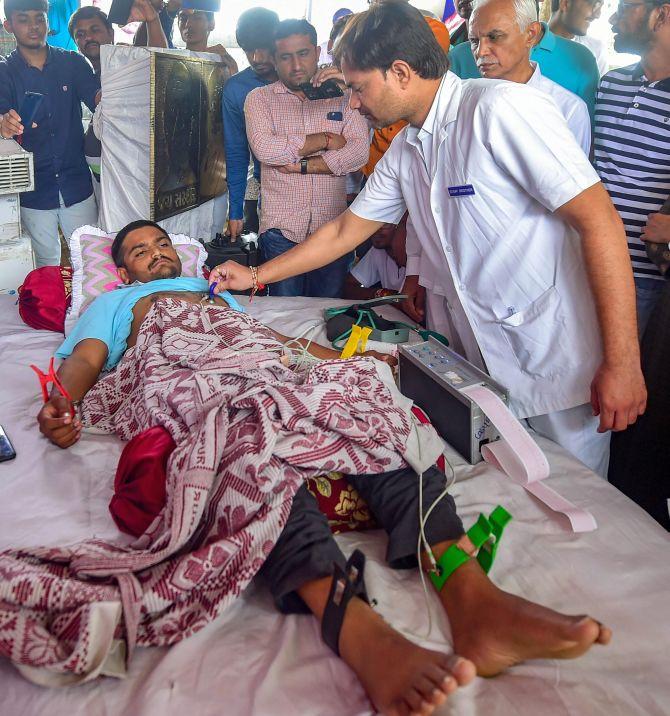 The quota leader has divided his property among his parents, a sister, 14 youths killed during the quota agitation in 2015 and a' Panjrapole' (shelter for ill and old cows) near his village, a Patidar leader said.
"Hardik Patel has expressed his wish to donate his eyes in case of his death," Patidar Anamat Andolan Samiti spokesperson Manoj Panara told reporters at Hardik's residence near Ahmedabad where he has been observing fast since August 25.
While leaders and representatives from various political parties, including the Trinamool Congress, Nationalist Congress Party and Rashtriya Janata Dal, have visited the 25-year-old quota spearhead in the last nine days, the Bharatiya Janata Party government has so far not intervened.
"Hardik Patel's health is deteriorating. He has not eaten food in the last nine days. He didn't drink water in the last 36 hours," Panara claimed.
He said Hardik Patel has prepared his will while "considering the doctor's advise regarding his deteriorating health".
"As per the will, Hardik has Rs 50,000 in his bank account, of which Rs 20,000 will go to his parents and the rest to a Panjrapole near his native village in Gujarat.
"Royalty from the book on his life 'Who Took My Job', which is currently under publication, as well as insurance money and the money collected after selling a car owned by him will be divided among his parents, his sister and the family members of the 14 Patidars who sacrificed their life during the agitation three years ago," Panara claimed.
He said 15 per cent of the total money will go to Hardik Patel's parents, another 15 per cent to his sister, and rest 70 per cent to the family members of the 14 Patidars.
A doctor from a government hospital who visited Hardik Patel on Sunday said he has advised the quota leader to get admitted to the hospital considering his health.
"We have advised him to be admitted to the hospital. His urine and blood pressure is normal, but Hardik has refused blood and urine tests," the doctor said.
Meanwhile, some supporters of Hardik Patel alleged that they were baton-charged by the police when they approached his residence to meet him.
Hardik Patel had launched his hunger strike on the third anniversary of his mega pro-quota rally in Ahmedabad that had turned violent.
He is demanding a loan waiver for farmers and quota for Patidars in government jobs and education under the Other Backward Class category.