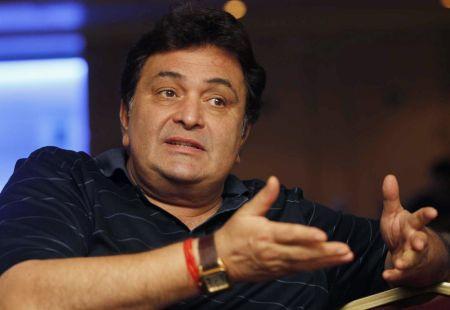 In a series of tweets, actor Rishi Kapoor has attacked the practice of naming all the major assets of the country after the Gandhi family members during the Congress rule.
The 63-year-old veteran actor, who had in the recent past, been critical of the Saffron forces on issues like intolerance, picked up the Congress for his blast this time.
Kapoor said the names of the prominent places should be changed after those who worked for the welfare of the country.
"Change Gandhi family assets named by Congress. Bandra/Worli Sea Link to Lata Mangeshkar or JRD Tata link road. Baap ka maal samjh rakha tha? (Did they consider it family property?)
"If roads in Delhi can be changed why not Congress assets/property ke naam? Was in Chandigarh wahan bhi Rajeev Gandhi assets? Socho? Why? (sic)," the actor tweeted.
The "Kapoor & Sons" star said people from the film industry should also have buildings named after them. "We must name important assets of the country who have
contributed to society. Har cheez Gandhi ke naam? I don't agree. Sochna log!
"Film City should be named Dilip Kumar, Dev Anand, Ashok Kumar ya Amitabh Bachchan ke naam? Rajeev Gandhi udyog kya hota hai? Socho doston!" he said.
Kapoor said even Delhi's international airport should be named after personalities like Bhagat Singh or Bhimrao Ambedkar.
"Why Indira G airport International? Why not Mahatma Gandhi or Bhagat Singh Ambedkar or on my name Rishi Kapoor. As superficial! What say?" he tweeted.
The actor said his father legendary actor-filmmaker Raj Kapoor has done more good to the country than any politician.
"Raj Kapoor has made India proud over the years all over even after his death. Certainly more than what has been perceived by politics (sic)," he wrote.
The Congress party responded strongly to Rishi Kapoor's tirade, saying the veteran actor is not aware of the family's contribution towards nation-building.
"Rishi Kapoor fails to realise the contribution of the Gandhi family towards nation building," Mumbai Regional Congress Committee (MRCC) chief Sanjay Nirupam said.
"Some people say anything for the sake of power and due to their parochial attitude," he said, attacking the 63-year-old actor.
"I have sent him a list of airports in the country, named after several important leaders from Maharana Pratap and Shivaji Maharaj to Lal Bhadur Shastri. Saying that everything is named after the Gandhi family is not correct," Nirupam said.
"Maybe he is not aware of the pioneering work done by late Rajiv Gandhi in areas of women empowerment and panchayat raj," Nirupam, former MP, said.
Actor Anupam Kher said Kapoor's tweets are genuine thought.
"Rishi Kapoorji has thought about it and I am sure a lot of people think about a lot of things that they put on social networking sites. It's genuine thought. It is not necessarily against the particular family," Kher said, adding that the achievements of other people should also be lauded.
"Salutes to @chintskap for speaking the truth. The #Nehruisation of this country has to go. There is no different. Between them & the Britishers," said filmmaker and censor board member Ashoke Pandit.