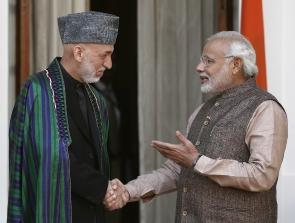 Abdullah Abdullah and Ashraf Ghani -- the two presidential candidates in Afghanistan -- are good friends of India and the country will work very closely with whoever wins the election, a top Indian diplomat said.
Indian Ambassador to Afghanistan Amar Sinha said that the new government formation in Afghanistan will have a strong relationship with India. "Either of the candidates become President they both are good friends of India and will work very closely with them. They look towards India as a true friend," Sinha said.
"Our policy towards Afghanistan transcends political differences and each government work very closely both in India as well as here," he said. Sinha said that Indo-Afghan relationship will further strengthen.
Sinha said the swearing in ceremony of the new Afghan President will be attended by India at duly appropriate level. The run-off election held on June 14 will decide whether former foreign minister Abdullah Abdullah or ex-World Bank economist Ghani succeeds incumbent Hamid Karzai and leads Afghanistan into a new era. The preliminary result is due on July 2 and the final result is on July 22.
On India-Afghanistan-Pakistan relationship, he expressed hope of good ties and said that a solution can be found which can help the countries to live peacefully as good neighbours. "India got the new government and Afghanistan will have soon. Pakistan also has new government relatively and there is hope that all these governments will work together."
Sinha said Afghan people are happy with the victory of Narendra Modi in the Lok Sabha elections. "Afghans are quite happy that Modi, who has a good track record, has become prime minister. Somebody whom I met here even said that he has heard nearly 500 speeches of Modi," he said.
He said people are aware of the political developments in India and also watched the election results and expressed happiness when Modi became prime minister.