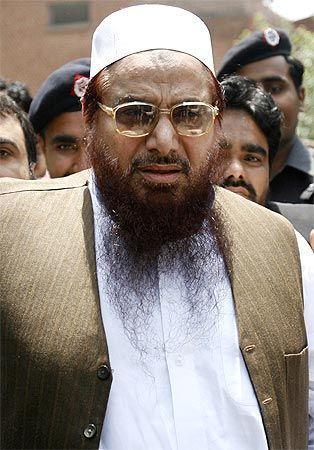 India on Thursday asked Pakistan to hand over Mumbai terror attack accused Hafiz Saeed and Dawood Ibrahim, who also figures in the country's most wanted list, to it if the neighbouring country is serious about fighting terrorism.
Union Minister M Venkaiah Naidu said Pakistan Prime Minister Nawaz Sharif should seize the opportunity in the wake of terror attack on Peshawar school and take bold steps to combat terrorism.
"If Pakistan is serious in fighting terrorism, it should arrest Hafiz Saeed and Dawood Ibrahim and hand them over to India... I hope Nawaz Sharif will seize this opportunity to take bold steps against terrorism," he told reporters outside Parliament.
Saeed is the "chief promoter" of terrorism in the world, Naidu said, calling him "an enemy of humanity".
On Wednesday, Saeed blamed India for the massacre of children at a Pakistan school and vowed revenge.
Taliban gunmen on Tuesday stormed an army-run school in Peshawar killing over 130 children.

Image: Mumbai terror attack accused Hafiz Saeed

5 most horrifying terror attacks on schools

Our hearts weep for the children lost