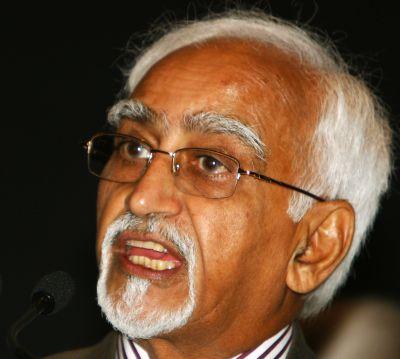 The vice-president will be the second Indian to be accorded the honour at the Oxford Centre for Islamic Studies. Nikhil Lakshman reports.
The dilemma of whether a Muslim accords precedence to her/his religious identity over her/his allegiance to the nation where s/he is a citizen has never been more relevant in the post 9/11 world, especially in multicultural societies like Britain where Islamaphobia is a lurking presence.
Next Friday, Vice-President Hamid Ansari will address what will arguably be the most important lecture he has delivered in his career when he speaks on Identity and Citizenship at the Oxford Centre for Islamic Studies.
The vice-president's lecture is the only ticketed event among the six special lectures the Centre -- whose patron is Prince Charles -- has organised this winter.
He will be the second Indian to deliver a lecture at the Centre which was presciently set up at Oxford University in 1985 to encourage the study of the Islamic world.
Eleven years ago, Sonia Gandhi, then just the president of the Congress party, spoke on Conflict and Coexistence in Our Age. It was the first major lecture she had then delivered in an international setting, just four years after she took over the reins of her party.
Her speech began on a sense of nostalgia: 'I must straightaway declare my partiality,' Sonia Gandhi said. 'I love that other place where I first met my husband thirty five years ago and where his grandfather, India's first Prime Minister, took his Tripos,' alluding to Cambridge.
'But Oxford also has a claim on my loyalty. My mother in law, Indira Gandhi, whose portrait I presented to Somerville College this morning, went up to Oxford during 1937–39.'
Speaking 13 months after 9/11 and eight months after the Gujarat riots, Sonia Gandhi went on to say, 'What is striking and remarkable is that international terrorist networks do not seem to have a hold on Indian Muslims. That is entirely because our political and social framework accommodates plurality in substantial measure.'
'India has been a continuous victim of cross border terrorism,' she said. 'Both Hindus and Muslims have been targeted alike. This is particularly so in our state of Jammu and Kashmir where it is evident that the terrorists are acting in pursuance of the foreign policy of our neighbour to the west. It would be wrong to think that religion is their motive.'
'Nevertheless, I should point out that, by the postures it adopts and the actions it takes, this neighbour provides a ready handle to those who stoke communal antagonisms within India. There are also religious and political leaders on both sides who feed on each other's passions.'
Interestingly, Sonia Gandhi and Hamid Ansari are the only representatives from South Asia -- a region which has two nations with the world's second most and third most number of Muslims -- to deliver a lecture at the Centre. There have been no speakers from Pakistan or Bangladesh, a tribute to the plurality of the Indian nation.
Among the others who have spoken at the Centre in the past are Nelson Mandela; Kofi Annan, then the secretary-general of the United Nations; Dr Mahatir Mohammad, then the prime minister of Malaysia; Amr Moussa, then the secretary-general of the Arab League; Alija Izetbegovic, then the president of Bosnia Herzegovina; Abdullah Gul, the president of Turkey; and, of course, Prince Charles, twice.
The vice-president's lecture (external link) will take place at the Nelson Mandela lecture theatre on Friday, November 1. President Pranab Mukherjee was tough on cross-border terrorism during a recent speech abroad. Will Vice-President Ansari's lecture be embedded with identical caveats on the perils of faith-provoked terrorism?
Image: Vice President Hamid Ansari will be the second Indian to deliver a lecture at the Oxford Centre for Islamic Studies
Photograph: B Mathur/Reuters