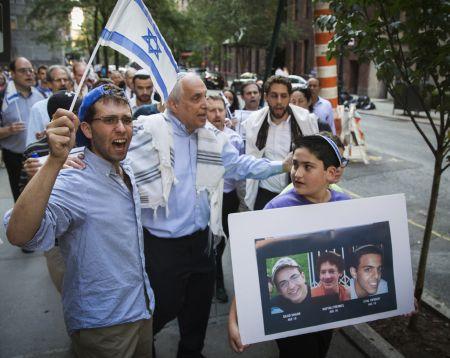 A senior Hamas official has admitted the militant group's involvement in the kidnapping and murders of three Israeli youngsters which sparked off the current violence in Gaza, contrary to the outfit's earlier claims that it had nothing to do with the killings.
Salach Al-Aruri, considered a senior figure in Hamas, boasted at a conference in Istanbul on Wednesday that the group's military wing was behind the kidnapping and murders of the three Israeli teenagers in the West Bank in June, the Ha'aretz daily reported.
A video captured during the conference shows Aruri, who is based in Turkey, saying that the Izz ad-Din al-Qassam Brigades, the military wing of Hamas, was responsible for the abduction of the three youths, Eyal Yifrach, 19, Gilad Sha'ar, 16, and Naftali Fraenkel, 16, the report said.
The kidnapping sparked an extensive Israeli crackdown on Hamas in the West Bank and marked the beginning of the recent upsurge in violence that has claimed more than 2,100 lives in the past nine weeks. "It has been said that it is an Israeli conspiracy, and I say it isn't," Aruri said at the conference.
"The al-Qassam's mujahedeen were the ones to carry out (the abduction) in show of support for the prisoners' hunger strike," he added, referring to Palestinians jailed in Israel.
The remarks were made during an event organised by the World Association of Muslim Scholars, the daily added.
Hamas had so far refrained from taking responsibility for the abduction and murder, even though it had expressed support for the attack. Aruri's name came up as a possible key player in the abductions shortly after the incident.
He has served a 16-year prison sentence in Israel and was consequently expelled from the country.
Some media reports on Monday claimed that Aruri had recruited the head of a Hamas network in the West Bank, 93 of whose members have been arrested since May.
Israel Defence Forces earlier this week demolished the houses of two suspects in the teens' kidnapping and murders, Hussam Kawasama and Amer Abu Aisha, while sealing off the entrance to the cellar where a third suspect, Marwan Kawasama, resided.
Image: Demonstrators march during a memorial service near the United Nations headquarters for the three Israeli teenagers. Several hundred people waving Israeli flags expressed grief and solidarity at the vigil in New York. Photograph: Lucas Jackson/Reuters