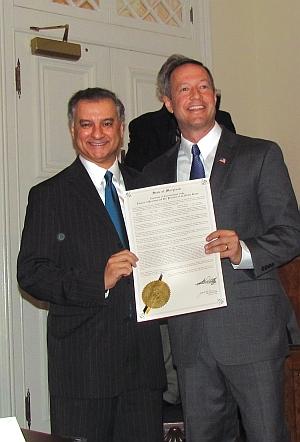 The significant clout of Indian American politicians in affecting mainstream political developments were further manifested through separate actions last month by South Carolina Republican Governor Nimrata 'Nikki' Randhawa Haley and Maryland House Majority Leader, Democrat Kumar Barve, who created history in the Indian-American immigrant experience in the process.
On December 17, Haley named Republican African American United States Representative Timothy Eugene Scott to succeed US Senator Jim DeMint who is leaving the Senate to take over as president of The Heritage Foundation, a leading Washington, DC conservative think tank.
By naming Scott, who becomes the first African American senator from the south since reconstruction and only the seventh, and currently only black person to serve in the US Senate, Haley was also obviously trying to put a more diverse face on the GOP, which fared miserably with minorities, including Blacks, Hispanics and Asians in the last presidential election.
Although, Scott, is a darling of the far-right Tea Party, as is Haley, the mere fact that he is African American now propels him conspicuously among the non-white players in the GOP, which includes Hispanic US Senator Marco Rubio of Florida, Senate-elect Ted Cruz of Texas, and Louisiana Governor Piyush 'Bobby' Jindal, besides Haley.
Rubio and Jindal are already being spoken about as GOP Presidential hopefuls in 2016.
Haley said, "It is a historic day for South Carolina. What we looked for in a new Senator is a fighter -- someone with courage and leadership for our state and nation at a time when we need it most, and someone who understands South Carolina's issues and knows her people. That's what we found in Tim Scott."
Flanked by US Senator Lindsey Graham and DeMint -- as well as South Carolina US Representatives Joe Wilson, Trey Gowdy. Mick Mulvaney and US Representative-elect Tom Rice -- Haley made the announcement.
"Tim Scott has proven himself time after time. His life story is a great South Carolina story, filled with the difficulties and the successes that are familiar to so many of our citizens," she added.
Scott thanked Haley and said he was honored by the appointment. "As much as there is honor in such an occasion, I am even more humbled at the confidence she has shown in me, and at the task that is now before me," he said. "Representing the entire state of South Carolina and all of its citizens is a sacred duty."
Almost immediately after appointing Scott, Haley made a fundraising pitch for her re-election campaign, with a letter to her supporters and donors, saying, 'I wanted you to be among the first to know that I've appointed Tim Scott to succeed outgoing Senator Jim DeMint. We deserve someone willing to stand up to President Obama and Harry Reid's liberal agenda. Today, I can confidently say that Congressman Scott is the absolute best choice.'
Haley then wrote, 'I hope you're as excited as I am. If you are, please consider making a donation.'
Scott backed Haley and warned that 'the Democrats are already in attack mode against her, and as I send this, they are already preparing their smear campaign against the Governor in the next election. We need Nikki Haley in office to continue fighting for the conservative principles we hold so dear.'
He added, 'I understand it is the holiday season, but Governor Haley needs just another $27,450 to end this month strong. Please consider making a donation to help her reach her goal.'
Meanwhile, Barve -- who was selected to serve as president of the Maryland Electoral College in addition to signing an inordinate amount of documents, accepting the ascertainments of vote from the Governor -- performed the roll call vote for President Obama at the state capital in Annapolis.
Key Maryland lawmakers, including Democratic Governor Martin O'Malley and the two Democratic US Senators, Barbara Mikulski and Ben Cardin were also present.
Each elector verbally cast his/her vote for the President after Barve got them to state their name and declare that 'I vote for Barack Obama for President of the United States.'
"Obviously, it was a great honor to serve as an Obama Elector for the state of Maryland. Also, it was a great honor to be selected as the president of the Maryland Electors and conduct the roll call vote to elect President Obama," Barve told India Abroad.
"The honor to preside over the Maryland Electoral College was even more significant because this was the 57th election ceremony in American history and 57th for Maryland as well because it was among the original 13 states."
Barve said, "The documents certifying the ten votes for Obama have been transmitted to Washington now where they will be read out in the House chamber by Vice President (Joe) Biden (January 6), thereby officially electing Obama and Biden."
"It is indeed yet another facet of our Indian American history and part of our immigrant experience that I could be part of this."