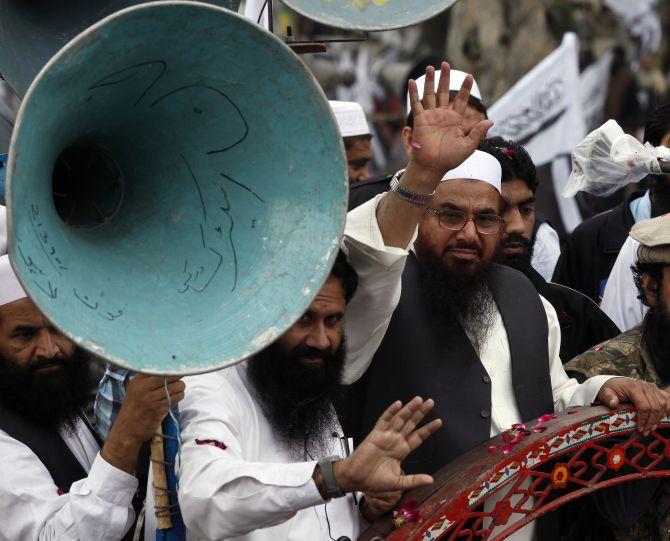 Mumbai attack mastermind Hafiz Saeed-led Jamaat-ud-Dawah and Afghanistan-based dreaded Haqqani network are not banned in Pakistan, according to an official list of 60 proscribed outfits.
However, the government has put the JuD on the list of groups being closely watched by the officials, which means that it can be banned if found guilty of promoting militancy.
JuD is listed as a terror outfit by the United Nations and its chief Hafiz Saeed has a $10 million (Rs 66.56 crore) bounty against him, but he moves freely across Pakistan.
The Al Qaeda-linked dreaded Haqqani network, blamed for several deadly attacks against Western and Indian interests in Afghanistan including the 2008 bombing of the Indian mission in Kabul, is also not on the list.
According to the list, there are 60 organisations banned by Pakistan for their involvement in militancy.
Arranged in alphabetical order, the Lashkar-e-Tayiba is on number 39 while Jaish-e-Muhammad is on 29.
The list also includes top militant groups like Al Qaeda and Tehreek-e-Taliban Pakistan.
The Islamic State or Daesh, which had made in-roads in the region, is also not included in the list. LeT and JeM were proscribed on January 14, 2002 in the wake of attack on Indian parliament.
The JuD is the only group under official observation, shows the list. The group runs schools and hospitals and carry out charitable work during floods and other natural disasters.
JuD chief Saeed opposes any peace overtures by the government of Pakistan to settle disputes with India.
Image: The United States has imposed a $10 million bounty on Jamaat-ud-Dawah chief Hafiz Saeed. Photograph: Mohsin Raza/Reuters