The main litigant in the Gyanvapi-Shringar Gauri complex case has sought "permission for euthanasia" from President Droupadi Murmu, alleging that her fellow petitioners are spreading false propaganda to defame her.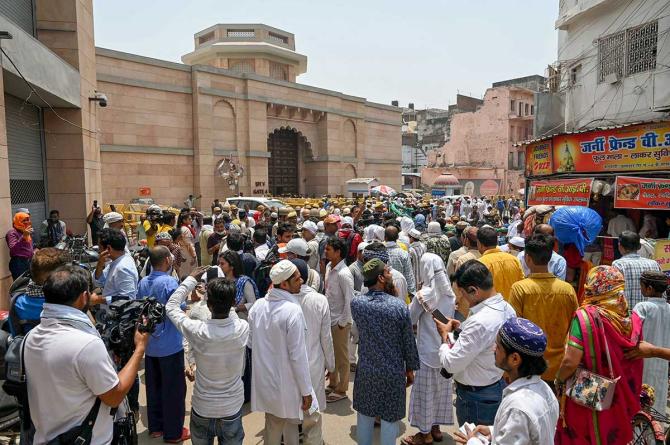 Rakhi Singh said claims that she is withdrawing from the case are false.
Lawyer for the Hindu litigants in the case, Harishankar Jain, however, refuted Rakhi Singh's allegations, saying these were baseless.
In her letter to President Murmu, Rakhi Singh said, "I request you to grant me permission of euthanasia and help me getting rid of the mental pain and agony so that I can get peace and sleep eternally." She also said she would wait for a reply till June 9 till 9 am and after that she would take her own decision.
Rakhi Singh, along with four other Hindu women, had filed the case in the court of the civil judge (senior division), Varanasi, in August 2021, seeking the right to daily worship at the Maa Shringar Gauri Sthal in the Gyanvapi mosque complex.
"Four of my associates, including Lakshmi Devi, Sita Sahu, Manju Vyas, Rekha Pathak, along with (senior) advocate Harishankar Jain, his son and advocate Vishnu Shankar Jain and their few colleagues are doing a false propaganda to defame me and my uncle and aunt Jitendra Singh Visen and Kiran Singh since May 2022," Rakhi Singh said in her letter.
They have made a "false claim that I am withdrawing from the case despite the fact that no statement or information regarding the same was issued by me or my uncle Jitendra Singh Visen", she said.
"This has put us under mental pressure from Hindu society and they are trying to present as gaddar (traitor) among the community," Rakhi Singh said.
The four women have "destroyed" the case and due to them "our efforts for temple worship went in vain", she claimed and added that she was "upset and hurt with this".
Dismissing the accusations, Harishankar Jain said he did not want to waste time on reacting to such baseless allegations.
The case is currently being heard in the Varanasi district court.
Citing lack of resources and harassment as reasons, Visen had last week announced that he and his family members are disassociating themselves from all cases related to Gyanvapi mosque complex issue.
© Copyright 2023 PTI. All rights reserved. Republication or redistribution of PTI content, including by framing or similar means, is expressly prohibited without the prior written consent.