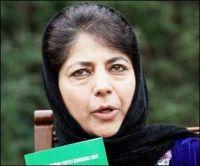 Opposition Peoples Democratic Party Sunday said the hanging of Parliament attack convict Mohammad Afzal Guru was a "political decision" as the UPA government wanted to divert attention from burning issues facing the country.
"This was a political decision as the Congress wanted to counter the criticism from BJP," PDP president Mehbooba Mufti told mediapersons in Srinagar.
She said it was an attempt to divert attention from big issues like corruption being faced by the country today.
Mehbooba said Guru's execution will further fuel alienation among the people of Kashmir, especially the younger generation.
"We had invested a lot in the peace process ... the Vajpayee led government and then the Manmohan Singh government also invested in the peace. This (hanging) is a setback to those efforts," she said.
Mehbooba said her party had opposed the execution of Guru right from the time the verdict in 2005, when her PDP was part of the UPA government at the Centre.
The opposition leader said Chief Minister Omar Abdullah expressing "helplessness" in front of the decision taken by the Centre on execution of Guru "speaks volumes about disempowerment of the state".
Mehbooba said she appeals to people of the country to help in handing back of the body of Guru to his family so that they can perform his last rites.