As the body of Border Security Force soldier Gurnam Singh wrapped in the tricolour arrived at his home, his mother Jaswant Kaur kept the promise made to her son not to cry over his martyrdom.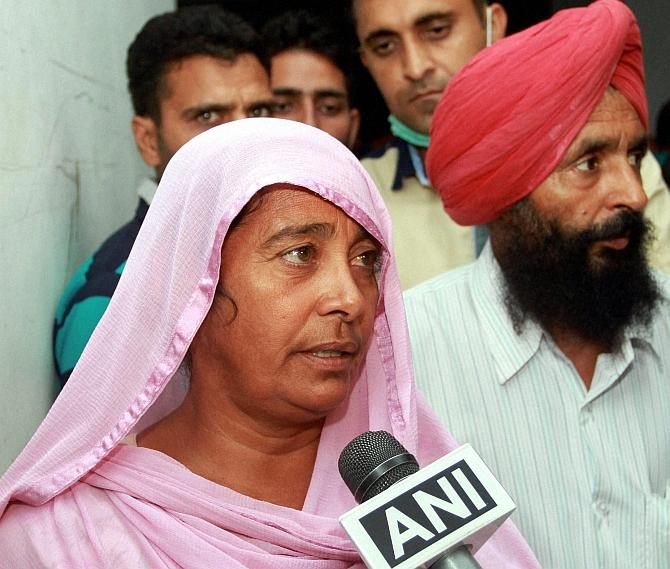 The family is proud of the sacrifice made by the 26-year-old in the line of duty but demanded a specialised hospital in his name for the border guards and troops injured on IB and LoC to help save their lives.
The jawan's father also asked the prime minister to give a befitting reply to Pakistan.
Gurnam Singh succumbed to injures at a hospital in Jammu last night after he was injured in a sniping incident on the International Border in Kathua sector on Friday.
A pall of gloom descended on Gurnam's native village Bhalesar Magowali in R S Pura tehsil, which is close to the Indo-Pakistan border as the body of the jawan arrived.
Holding back her tears, Gurnam's mother said, "I will not cry. I have promised this to my son. Gurnam once said, 'mummy, don't cry if I sacrifice my life for the nation'. I said I won't... he made us proud. We are proud of his martyrdom".
As the news of his death spread last night, people thronged his house and raised slogans such as "Gurnam Amar Rahe".
The jawan's mother requested the Modi government to set up a separate BSF hospital.
"We want a specialised hospital for border guards to save their lives. Only demand from Modi Government is for a separate BSF hospital. We are worried about all our sons (border guards on IB).They should get good treatment", Kaur said.
Gurnam's father Kulbir Singh said, "We are proud of the martyrdom of our son. He laid down life for the country. He was brave-heart soldier. But our demand is that a good hospital be set up here, where all critical care medicare and facilities are available so that our sons (border guards) can be saved in such situations".
Kulbir Singh made a fervent appeal to PM Narendra Modi to ensure a hospital for BSF troopers and urged him to give a befitting reply to Pakistan.
"I urge Modiji to give a befitting reply to Pakistan and teach them a lesson so that they do not dare it again. If it means a war let it be so," he said.
Gurnam's sister Gurjeet Kaur also demanded that a specialised critical care hospital be set up in the name of his brother.
"I have only one demand from Modi government that a hospital for BSF troops be set up in the name of my brother so that we can take care of such troopers of BSF. My brother has given sacrifice. Now it is time to take care of rest", Gurjeet said.
Singh was given an emotional adieu by the BSF at a wreath laying ceremony held at the BSF frontier headquarters in Jammu, in which several senior officers of the force and the local police paid homage.
The last rites of the deceased jawan would be held on Monday as per the wishes of his family.
The people of the native hamlet say they are proud of his sacrifice.
"We are proud of his sacrifice. He repulsed an infiltration bid by six militants. He is proud son of the soil," villager Amarjeet Singh said.
IMAGE: Parents of BSF jawan Gurnam Singh talk to media persons. Photograph: PTI Photo