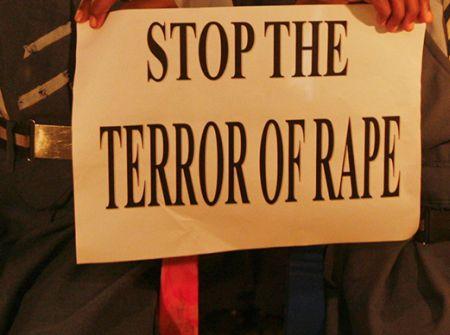 The National Human Rights Commission has issued notices to Haryana's director general of police and the Gurgaon police commissioner over the alleged gang rape of a 23-year-old woman in the industrial area of Manesar.
The Commission observed on Tuesday that the incident makes it clear that 'night patrolling on the road by the police was not being done'.
The woman was allegedly raped on May 29 by three men in Manesar, a short distance away from the bustling millennium town of Gurgaon, after they killed her nine-month old baby by flinging her to the ground.
Haryana Director General of Police B S Sindhu has been directed to inform NHRC about steps being taken to ensure safety of citizens, especially women. The DGP and Gurgaon Police Commissioner Sandeep Khirwar have been asked to respond in four weeks.
Though the direct involvement of any public servant in the incident is 'not apparent' yet, the Commission said the sorrowful content of the media reports are 'indicative of an atmosphere of fear, insecurity and uncertainty prevailing in the national capital region, especially in places like Noida, Faridabad and Gurgaon'.
"Ensuring safety of the citizens, especially, the women and children, is one of the prime duties of the state. It seems that some conspicuous steps are immediately required to be taken by the law enforcing agencies so that these kinds of incidents do not reoccur."
NHRC has also called for suggestions from the police commissioners of Delhi and Faridabad and the senior superintendents of police of Noida and Ghaziabad. It asked if a joint action programme by law enforcing agencies of the NCR region could be planned and executed to deal with such heinous crimes against women.
"Their response is expected in six weeks," the NHRC added.
According to Gurgaon police, the trio had given the woman a lift and taken her to a secluded spot where they took turns to rape her after throwing her baby on the ground.
"The woman walked on the road with her injured daughter and reached a factory, where a guard on duty had asked her to wait till the dawn, when the baby was examined by a doctor who told her that she was dead.
"The woman travelled with her child's body in a metro train to reach her parents place at Tughlaqabad in Delhi.
There, another doctor examined the baby and declared her dead. Later, the woman again went to Gurgaon to lodge a complaint," the NHRC said, quoting media reports.
In Delhi and its neighbouring states, at least 10 cases of brutal sexual assaults on women and minor girls have been reported over the last one month.