At least 16 people, including two soldiers were killed when terrorists launched attacks on three hotels in the Ivory Coast.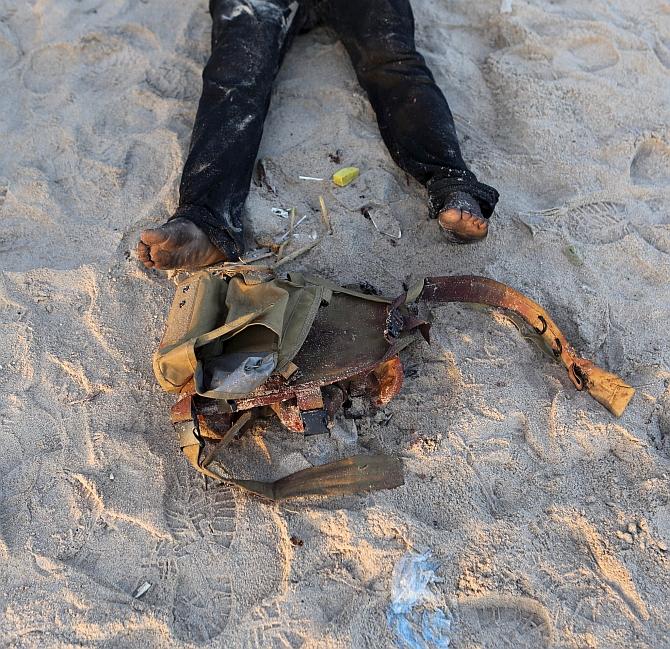 The feet and utility belt of what Ivorian security officers said was a dead attacker is seen on the beach in Grand Bassam, Ivory Coast. Photograph: Joe Penney/Reuters
Six terrorists were killed by authorities after they targetted the popular seaside town of Grand-Bassam, a weekend retreat for residents of Abidjan, about 25 miles (40km) away.
Local media reported gunmen had entered the L'Etoile du Sud (the Southern Star) hotel, seizing guests and staff on Sunday.
Ivory Coast Interior Minister Hamed Bakayoko said foreign citizens from France, Germany, Burkina Faso, Mali and Cameroon were among the victims.
A short drive from Abidjan -- one of West Africa's largest cities with about 5 million inhabitants -- Grand Bassam fills up on weekends with thousands of beachgoers.
Witnesses said the gunmen followed a pathway onto the beach where they then opened fire on swimmers and sunbathers before turning their attention to the packed seafront hotels where people were eating and drinking at lunchtime.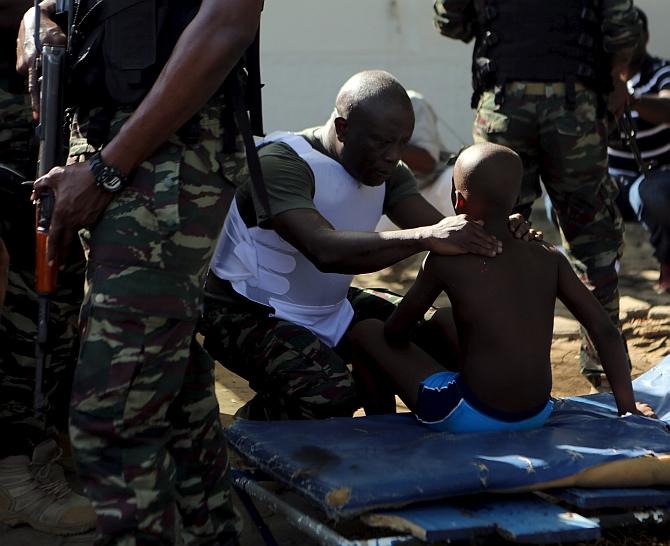 A soldier comforts an injured boy in Bassam. Photograph: Joe Penney/Reuters
"They started shooting and everyone just started running. There were women and children running and hiding," Marie Bassole, a witness, told Reuters. "It started on the beach. Whoever they saw, they shot at."
Security forces moved to evacuate the area surrounding the beach. Bullet holes riddled vehicles nearby and glass from shattered windows littered the ground.
Al Qaeda in the Islamic Maghreb, which has carried out other recent attacks in the region, claimed responsibility for Sunday's shootings, according to the US-based SITE intelligence monitoring group, citing an AQIM statement.
Barely two months ago, Islamists killed dozens of people in a hotel and cafe frequented by foreigners in neighbouring Burkina Faso's capital, Ouagadougou. Gunmen also attacked a hotel in the Malian capital, Bamako, late last year.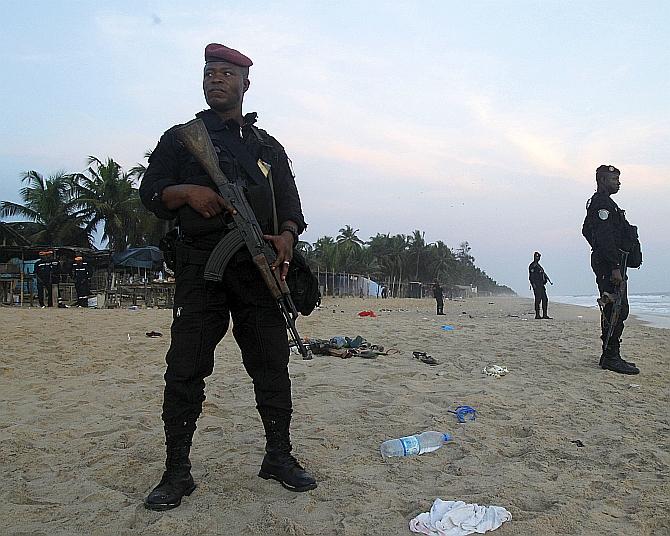 Soldiers stand in guard on the beach in Grand Bassam. Photograph: Luc Gnago/Reuters
Both of those attacks were also claimed by AQIM and raised concern that terrorists were extending their reach far beyond their traditional zones of operation in the Sahara and the arid Sahel region.
Though previously untouched by Islamist violence, Ivory Coast, French-speaking West Africa's largest economy and the world's top cocoa producer, has long been considered a target for militants.
It has been on high alert since the Ouagadougou attacks, and security has been visibly bolstered at potential targets, including shopping malls and high-end hotels.