Train services remained disrupted and diversions were carried out in Rajasthan's Bharatpur district as the agitation by the members of Gujjar community, demanding five per cent reservation in government jobs, entered the second day on Friday.
Hundreds of agitators sat on the Delhi-Mumbai railway tracks severely hitting the road and rail traffic, even as the government invited them to hold talks.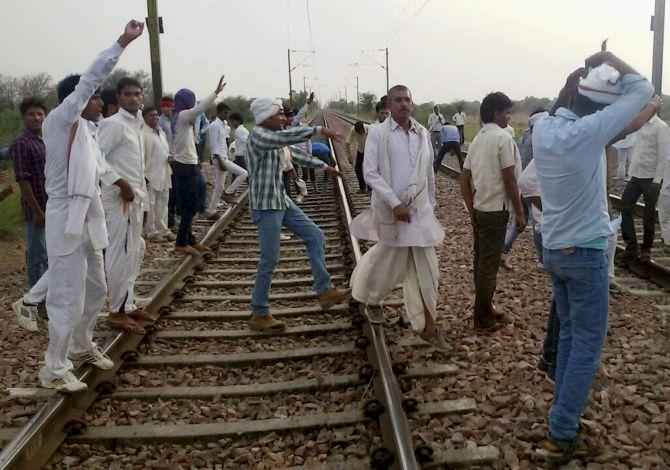 Gujjar community people agitating to demand reservation in government jobs and educational institutions for their community on Delhi-Mumbai railway track near Bayana village. Photograph: PTI
Several trains have been diverted while road traffic on Bharatpur-Hindaun road has also been affected, police said.
The state government on Friday forwarded a letter to the Gujjar leaders, who are demanding five per cent reservation in government jobs under 50 per cent legal limit, asking them to hold a talk.
The leaders rejected the demand and gave an ultimatum to the government.
"In a letter, the government asked us to hold talks today but we want a permanent solution of our problem and have given an ultimatum to the government," Himmat Singh, spokesperson of the Gujjar Arkashan Sangharsh Samiti said.
"We will wait for the government's response and decision of future course of action will be taken in the evening today," he said.
The protesters have already been on the tracks for the last 2 days and said they would continue to remain there till their demands were met. Photograph: PTI
A district administration official handed over the letter to Gujjar leader Kirori Singh Bainsla.
Chief Minister Vasundhara Raje reviewed the situation on Thursday night and gave necessary directions to the police and district administration officers.
State Home Minister Gulabchand Kataria, DPG Manoj Bhatt and others attended the meeting.
Hundreds of agitators have been squatting on the railway tracks since Thursday evening and reportedly damaged the tracks by removing some fish plates.
IG Bharatpur Biju George Joseph, SP Rahul Prakash, Collector Ravi Jain and other senior officers are camping in Bayana town and heavy force has been deployed around the area to maintain law and order.