Take on the Adanis and this could happen to you!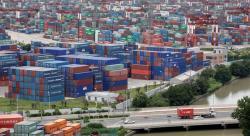 Gajendrasinh Jadeja, the sarpanch of the Navi Naal village in Mundra taluka in Kutch, Gujarat, who arrested under the Prevention of Anti-Social Activities Act by the state government, has filed a petition in the Gujarat high court against his detention and application of the tough law against him.
Jadeja's petition alleges that he has been arrested on the instance of the Adani group, owned by Gautam Adani, a businessman considered close to Prime Minister Narendra Modi.

Justice Paresh Upadhyay admitted the petition and issued a notice to the Gujarat government.
Jadeja's petition alleges that he was arrested only because he has been relentlessly fighting against the Adani group at all levels, including in the high court. It says the Gujarat government and Adani group were peeved by the high court judgment ordering the closing down of Adani's SEZ due to the absence of environmental clearance.
Jadeja has also been fighting the Adani group's alleged destruction of mangroves.
His village Navi Naal is inside the Adani Port and Special Economic Zone and he has filed more than one petition against the Adani group.
The Gujarat high court ordered the allotment of 387 hectares of land to Navi Naal village, but the state government has so far allotted only 17 hectares.
When Jadeja objected, his uncle Ranubha alleges government officials told him to compromise or else he would be charged under the Prevention of Anti-Social Activities Act.
Jadeja is currently lodged in the Surat jail.
Image: The Adani SEZ in Mundra, Gujarat. Jadeja's village Navi Naal is located inside the campus.