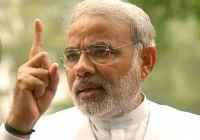 Gujarat Chief Minister Narendra Modi on Wednesday night targeted Congress President Sonia Gandhi, saying she should not come to the state "without doing proper home work".
"Madam Soniaji has no basic knowledge about Gujarat. Therefore, she committed a mistake while speaking at a rally in Rajkot," Modi said, addressing an election rally in Rajkot.
Referring to Gandhi's speech made a few days back, the Bharatiya Janata Party stalwart said, "Soniaji had criticised Gujarat government for not allotting additional gas cylinders to consumers. She had claimed the Congress-ruled states were giving three additional (subsidised) gas cylinders above the cap of six cylinders."
Gujarat Election Coverage | Check out the Rediff forecast
"I want to tell Congress leaders -- don't come to Gujarat without doing proper home work because Gujarat is the only state in the country which is providing piped cooking gas. Therefore, there is no need to announce additional gas cylinders," Modi maintained.
He said despite Gandhi's claim, Congress-ruled states had not given a single additional cylinder. "I challenge Soniaji to announce the name of a single beneficiary."
The chief minister termed Congress as a "burden" and "blot" and said the party was involved in several scams.
Modi also opposed FDI in multi-brand retail, saying it will create unemployment.
© Copyright 2023 PTI. All rights reserved. Republication or redistribution of PTI content, including by framing or similar means, is expressly prohibited without the prior written consent.