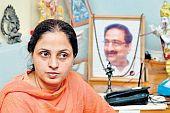 As the widow of slain BJP leader Haren Pandya fights a 'revenge' battle seeking "justice" for her husband for whose murder she blames Chief Minister Narendra Modi, Elliis Bridge seat is witnessing a poll contest where Jagruti Pandya expects her emotional appeal to triumph over the cold logic that favours her saffron rival.
Gujarat Elections 2012: Coverage | Rediff Sentimeter
Located right in the heart of Ahmedabad city, Elliis Bridge, adjoining Modi's constituency Maninagar, is considered a secure seat for BJP, which has won it four times in a row since 1995.
Peopled by the middle and high income class, the constituency is witnessing a triangular contest among sitting BJP MLA Rakesh Shah, Pandya, fielded by former chief minister Keshubhai Patel, who broke away from the saffron party to float Gujarat Parivartan Party (GPP) months ahead of the polls, and Congress' Kamlesh Shah, though six other candidates are also in the fray.
Haren Pandya, a hugely popular leader, who twice won the seat in 1995 and 1998, was murdered while on a morning walk in 2003 for which his family blamed Modi.

The estrangement between the two leaders, according to party insiders, was caused when Modi, after becoming chief minister in 2001, wanted Pandya to vacate Ellis Bridge seat to enable him enter the legislature which the latter refused.

Modi contested from Rajkot and won, but reportedly could not forgive Pandya for his defiance and divested him of the important home portfolio before ensuring he was denied ticket to contest the 2002 Gujarat Assembly elections that were held in the aftermath of the post-Godhra communal riots.
In August last year, the Gujarat high court acquitted all the 12 accused in the Pandya murder case for want of evidence and castigated the CBI for botching up the investigation.

CBI's Special Leave Petition against the order is still pending with the Supreme Court.


"I want justice for my husband who laid down his life for BJP, but none of its leaders lent me any support in the 10 years I fought the battle in courts," says Pandya.
"Haren was loved by his constituents. Voting for me would be like voting for him. That would be the biggest homage people of Elliis Bridge can pay him," says Pandya, who like Shweta Bhatt, wife of suspended IPS officer Sanjeev Bhatt, has brought into the political arena their husbands' fight against Modi.
Sanjeev Bhatt has taken on Modi accusing him of complicity in the post-Godhra communal riots by allegedly ordering the police to allow Hindus to "vent their anger" against Muslims to teach them a lesson.
Both Shweta and Jagruti are Brahmins, who have sizeable presence in Maninagar and Ellis Bridge constituencies.
In Ellis Bridge, Brahmins, Patels, a landed and politically empowered community and Banias constitute nearly 60 per cent of the electorate.

The Vishwa Hindu Parishad's faction loyal to its international general secretary Pravin Togadia, is said to be backing Pandya in her electoral foray. Togadia, who like Keshubhai, is a Leuva Patel, according to VHP insiders, has turned against Modi for marginalising the hardline Hindu outfit, which was in the forefront of the Ayodhya movement, in Gujarat.

However, few believe that Brahmin, Bania and Patel communities, who have traditionally voted for BJP, would turn against the saffron party.
The Congress is banking on the votes of a section of Banias, the community to which its candidate belongs and who constitute nearly 20 per cent of the electorate, besides Muslims and Dalits, who have marginal presence in the constituency.
However, since the BJP nominee is himself a Bania, not many from the affluent community which has benefited under Modi may plump for him.
"There is a mood for change after years of Modi's misrule. Rahul Gandhi has energised us to dislodge BJP. Party workers and the youth are enthusiastic about winning Ellis Bridge," says Vinodbhai Modi, Congress corporator from Dariyapur.
Ashish Desai, a trader, says BJP will win the seat hands down as "nobody apart from Jagruti Pandya's family and those close to them believe Modi plotted her husband's murder.

"BJP will win Ellis Bridge no matter what comes. Modi has done a great job on the development front and he should get his due. Harenbhai's killing came as a shock and saddened us all, but 10 years after that I don't think Jagrutiben will get much sympathy from the voters."

BJP had won Ellis Bridge by handsome margins in 1995, 1998, 2002 and 2007 Gujarat Assembly elections, while various Socialist-leaning parties like Janata Party and Janata Party (JD) bagged it thrice in 1980, 1985 and 1990. Congress pocketed the seat twice in 1962 and 1972, Congress (O) in 1975 and independent once in 1967.