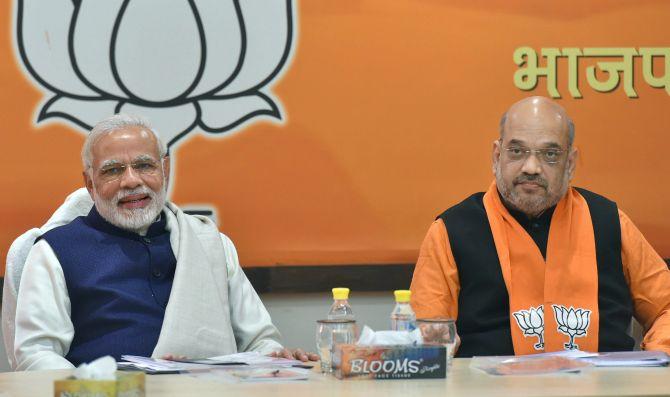 The Bharatiya Janata Party and Congress were locked in a nail-biting contest in at least 16 seats in Gujarat, where the victory margin was less than 2,000 votes and of just about 200 votes in a few.
In seats like Dholka and Fatepura, smaller parties like Nationalist Congress Party and Bahujan Samaj Party ate into the crucial votes which some described as snatching of near-certain victories from the Congress.
The independents also scored big in some seats.
The assembly seats to have seen a photo-finish included Himatnagar, Porbandar, Vijapur, Deodar, Dangs, Mansa and Godhra.
At many places, independent candidates, primarily rebels, cut votes of either of the two main parties.
In tribal-dominated Dangs, Congress managed a slender margin of 768 over the nearest rival BJP while in Kaprada, another ST seat, the Congress sneaked victory by a mere 170 votes.
However, there were at least eight seats, where Congress candidates trailed their nearest rivals by less than 2,000 votes, including in Godhra where BJP's C K Raulji won by just 258 votes.
The NOTA votes counted 3,050 in Godhra and one independent candidate got over 18,000 votes to finish third.
In the Dholka constituency, Congress lost by a margin of 327 votes.
Significantly, in this seat, the BSP and NCP bagged 3139 and 1198 votes respectively.
Similarly at the Fatepura seat, where BJP won by a margin of 2,711 votes over the Congress, the NCP candidate got 2,747 votes.
The Congress lost the Botad seat by a margin of 906 votes where BSP bagged 966 votes. Three independents collectively got around 7,500 votes here.
The BJP had its share of narrow misses as well. Apart from the Kaprada constituency, the party lost the Mansa seat by a vote of 524 votes and the Deodar seat by 972 votes.
IMAGE: Prime Minister Narendra Modi and BJP president Amit Shah at the party's parliamentary board meeting in New Delhi on Monday. Photograph: Kamal Kishore/PTI Photo