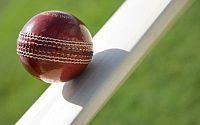 A Gujarat-based cricketer, who was one of the probables of an IPL franchise, was arrested in Ahmedabad on Tuesday for allegedly cheating five local cricketers of Rs 38 lakh by promising them a place in Indian Premier League teams, police said.
The Cyber Crime Cell of the Crime Branch arrested Hetarth Gohil, who was one of the probables called by Deccan Chargers team in the Season 3 of IPL.
"We have arrested Hetarth Gohil for cheating five local cricketers by promising them places in IPL teams in lieu of money," Assistant Commissioner of Police (Cyber Crime) K N Patel told media persons.
"We have received several bogus documents from Gohil's possession and fake documents in the name of Anurag Thakur and his secretary Anurag Salvi. He collected Rs 38 lakh from his friends," the ACP said.
Gohil enticed his friends -- Hitesh Vaghela, Satyavir Chauhan, Unmesh Joshi, Iqbal Momin and Dipty Chauhan -- by showing his photographs with players of Deccan Chargers and the support staff, police said, adding that he told his friends he had received three years' contract for playing with the team.
Gohil told his friends that he had received huge money after being included in the initial squad and if they wanted to earn money like him, he would contact Anurag Thakur and his secretary Anurag Salvi for their selection in Deccan Chargers.

He then created fake documents in the name of Thakur and Salvi to win their confidence and collected Rs 5.5 lakh each from Vaghela and Joshi, Rs 7.5 lakh each from Satyavir and Dipty and Rs 12 lakh from Momin, telling them that it was meant to be given to Thakur, police said.

When his friends approached him saying that they had not received call letters from IPL team to play in Season 5, he said that as they had not played Ranji Trophy matches, they
did not receive call letters, police said, adding that he used to give them one reason or other for their exclusion from the team.
The victims approached the police when they found that their names were not there in the 2013 season.
© Copyright 2021 PTI. All rights reserved. Republication or redistribution of PTI content, including by framing or similar means, is expressly prohibited without the prior written consent.