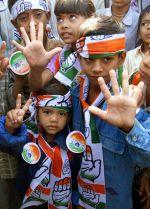 Gujarat Congress on Friday made scores of electoral promises targeting 75 per cent of the electorate which includes the OBC, SC-ST, minority, differently-abled and dalit voters.
Senior leaders including state Congress president Arjun Modhwadia, Leader of Opposition Shaktisinh Gohil and state election campaign committee chairman Shankarsinh Vaghela announced the ninth point in their 12-point 'Gujarat people development vision - 2012' at a press conference.
"Unfortunately, the BJP government in the state has shown least concerns to uphold constitutional rights of the people to live with dignity and equality and we have decided to fulfil the constitutional obligation of the state when we would form the next government," said Modhwadia.
Keeping in mind the minorities of the state, the state Congress unit has promised to set up a separate minority welfare ministry and a new state minority commission. It also promised to build a new Haj House.
"We will also implement the 15-point programme announced by the central government for recognised religious minorities with full vigour and also implement matriculation scholarship scheme, which the present BJP government has refused to do the same," he said.
The party also promised 50 per cent reservation for differently-abled persons in assistive jobs, reserving plots for specially skilled professionals in GIDC (Gujarat Industrial Development Corporation) and increasing the income level criteria for the creamy layer certificates.
In a series of other promises, they announced to immediately fill all the backlog in jobs in reserved categories, implement all recommendations of the Renkhe
Commission with regard to the development of 40 nomadic tribes in the state and to form a Nomad Development Corporation.