The motormouth minister is at it again.
M I Khan reports from Patna.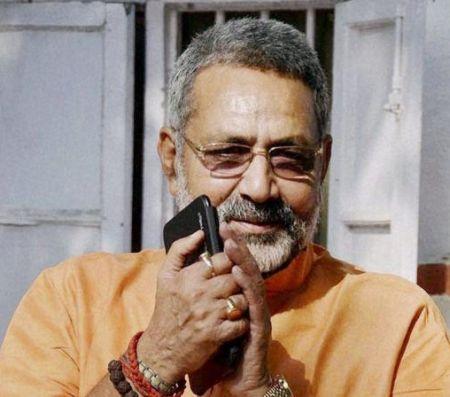 Union Minister Giriraj Singh, known for dancing in controversy, has shot his mouth off yet again.
In a video that has gone viral on social media, the Union minister of state for Micro Small and Medium Enterprises describes Hindus as 'hijras' (eunuchs).
'Hinduo jaisa koi hijra kaum dusra nahin hain,' Singh was heard saying in the video clip.
'Agar Hindu hota toh, Patna ke Kargil chowk pe koi Pakistan zindabad ka nara nahin lagata, sabko eke k dhela marker maar detein ('If they were Hindus, then they wouldn't dare chant "Pakistan zindabad" slogans or else they would be beaten up),' the mantri added.
Singh warns Hindus in the video that it is the beginning of worse things to come.
When asked about his statements, Singh said he had not made any such statements in public and it was wrong and unethical of the media to record private conversations and put them out for all to listen.
In April, Singh had targeted IITians, saying, 'Aaj samaj mein jo bachche gir gaye hain ha, gau maans kha rahein hain. Padhe likhe dus log jo gau maans kha rahein hain unmein se nau IITs ke hain ('People who have fallen in society eat beef. Out of 10 educated people who eat beef, 9 are from IITs').'
Earlier, Singh demanded that the voting rights of couples with more than two children be revoked, to develop the nation.
The minister last year made racist remarks on Congress President Sonia Gandhi.
Singh had been widely condemned for saying: 'If Rajiv Gandhi had married a Nigerian lady and not a white-skinned woman, then would the Congress have accepted her leadership?'
In April 2014, during the Lok Sabha election campaign, Singh was booked for saying that 'those who oppose Narendra Modi should go to Pakistan.'