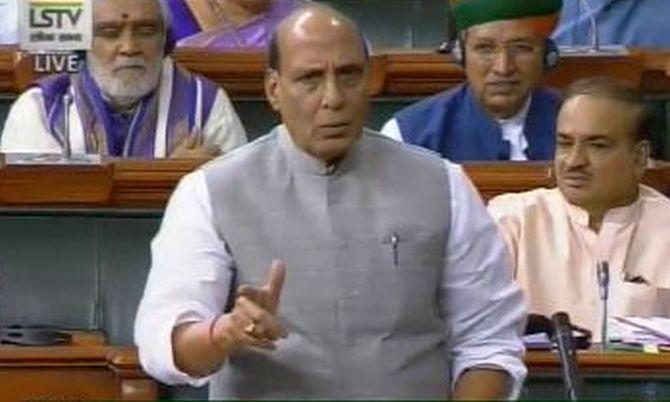 The government intends to pass a bill in the current Parliament session to restore the original provisions of a law on atrocities against SC/ST people, Home Minister Rajnath Singh said on Thursday.
As the Opposition criticised the government for not taking action to restore the provisions which were struck down by the Supreme Court, Singh told the Lok Sabha that the Union
Cabinet has already cleared a bill in this regard.
The bill to restore the original provisions of Scheduled Castes and Scheduled Tribes (Prevention of Atrocities) Act was approved by the Cabinet on Wednesday, acceding to a key demand of Dalit groups ahead of their call for a 'Bharat Bandh' on August 9.
Raising the issue during the Zero Hour, Congress leader Mallikarjun Kharge said the Supreme Court judgment regarding the Act was "very dangerous" for the SC/ST people".
In a ruling in March, the Supreme Court had introduced safeguards against arrests, which Dalit leaders and organisations said diluted the Act and rendered it toothless.
The government, which has brought several ordinances in the past few months, could have come out with one to restore the provisions of the Act, Kharge said, adding that atrocities against SC/ST people were on the rise.
MPs from various political parties had met President Ram Nath Kovind in March in this regard, he added.
Responding to Kharge, the home minister said he was surprised and wondered what was the justification in raising the issue when the Cabinet had only on Wednesday cleared the
bill.
The government wants to get the bill passed in the current Parliament session, Singh said.
He also recalled Prime Minister Narendra Modi's assurance that if necessary, a more stringent law to deal with atrocities SC/ST people would be put in place.
The Monsoon Session of Parliament is to end on August 10.
Trinamool Congress leader Saugata Roy raised the issue of the draft National Register of Citizens in Assam.
When Kharge and Roy were speaking on the issues, Speaker Sumitra Mahajan requested them to make it short since time was limited in the Zero Hour.
As the requests went unheeded, Mahajan remarked that if people like them were doing it, how could newcomers would understand things.
© Copyright 2021 PTI. All rights reserved. Republication or redistribution of PTI content, including by framing or similar means, is expressly prohibited without the prior written consent.