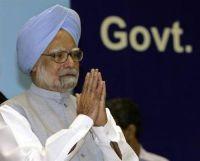 Dr Singh is confident that his government will push ahead its reforms agenda.
Prime Minister Manmohan Singh accepts that his government is vulnerable, but it appears he has taken in his stride the uncertainties of the withdrawal of support by United Progressive Alliance partners and the misery of running a coalition government.
While the prime minister did not fudge the direct question if there are fears that Samajwadi Party supremo Mulayam Singh Yadav may want to withdraw his party's support from the outside to the UPA later this year, Dr Singh demonstrated a combative attitude about going forth with economic reforms.
During the media interaction aboard the Boeing 747 ferrying the prime minister and his delegation from South Africa, Dr Singh was asked, "One of your biggest allies, the DMK (Dravida Munetra Kazhagam) is not part of your government anymore. Your government is much more dependent on Mulayam Singh Yadav and (Bahujan Samaj Party chief) Mayawati. Do you think your government is much more vulnerable today? There are fears that Mulayam Singh Yadav may want to withdraw support later this year."
The prime minister was candid. "Obviously, coalitions face issues. Sometimes, they give the impression that these arrangements are not very stable arrangements and I cannot deny that those possibilities exist. But I am confident that our government will complete its full five years, that the election to the next Lok Sabha will take place on schedule."
"Your party and the government have been saying that the government is stable and will last its full term," another journalist asked. "Does the government still have the political will to sustain reforms you had started a year back?"
In response, Dr Singh was in his element. "It is not a once for all set-up that we are seeking by way of reforms. Reforms certainly have to take into account the fact that we don't have the majority to get Parliament to approve some of our reform proposals. So we are certainly dependent on the goodwill of our allies and I would be the last one to deny that there are uncertainties."
"But even then, we are confident that the reforms that matter, and which are going to yield results in the next few months, we will be able to push them."
When asked, "Given the fact that ally after ally are leaving the UPA, do you think the Congress party and your leadership have lost the ability to hold allies together," Dr Singh replied, "I don't share that view. I think that alliances do have compulsions which have to be taken into account. We will not allow these compulsions to derail the reform process or to create a situation where the essential task of governing this vast country of ours can be put aside."