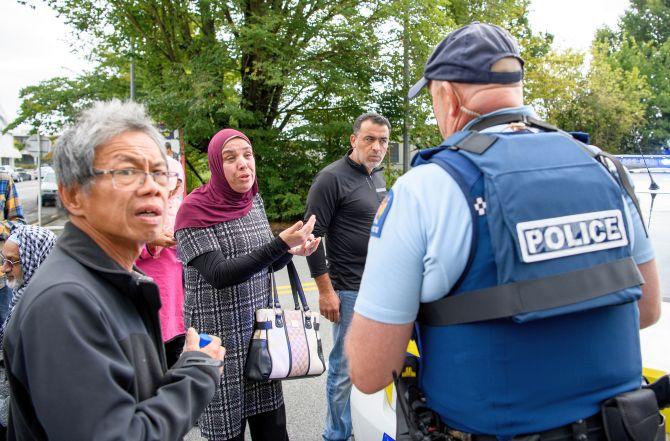 An Indian-origin man was injured in the Christchurch terror attacks, his relatives residing in Hyderabad said on Friday.
At least 49 worshippers were killed in attacks on the Al Noor Mosque in central Christchurch and the Linwood Mosque in the city's outer suburb, in what appeared to be the worst
attack on Muslims in a western country.
Khursheed Jahangir, brother of Ahmed Iqbal Jahangir, said his brother was injured during the attack and is currently undergoing treatment at a local hospital in Christchurch.
"He is injured.He is recovering in a hospital now. The latest information we received is that he is undergoing a surgery. We have seen the video. He has been shot in the chest and we are trying to reach Indian embassy people and local helpline numbers," Khursheed Jahangir said.
He said he spoke to All India Majlis-e-Ittehadul Muslimeen chief Asaduddin Owaisi for help in reaching out to authorities for a visa and other formalities to go to New Zealand to see his brother.
Khursheed Jahangir said he has visited New Zealand twice and described it as one of the 'safest' places in the world.
Asaduddin Owaisi tweeted requesting External Affairs Minister Sushma Swaraj and the Telangana Governments help to enable the family to go to New Zealand.
'I request @KTRTRS @TelanganaCMO @MEAIndia @SushmaSwaraj to make necessary arrangements for the Khursheed family,' Owaisi said in a tweet.
'These are Mr.Khursheed's passport details. His brother is serious & his family has little support. I'm only requesting the immediate support of your good offices in expediting his visa process. Hell make all arrangements to travel to NZ by himself,' Owaisi said in another tweet.
Reacting to Owaisi's request, Telangana Rashtra Samiti working president and former minister KT Rama Rao tweeted 'Asad Saab, Will request our NRI department to assist'.
Owaisi, in another tweet, said 'Farhaj Ahsan, a person of Indian origin, was also reported to have gone to the same mosque and is currently missing. His family is in Hyderabad, I request immediate assistance to his family as well. His familys contact details are available with me & Ill share the same with you (sic).'
Farhaj Ahsan's parents could not be reached.
Suresh Kumar, a family friend of Ahmed Iqbal, said in a video footage they could see images of Iqbal, who runs a restaurant in New Zealand, at a mosque when the attack took place.
"Since then we (Iqbal's family in Hyderabad) have been trying to reach him. We could not reach him over phone. His wife is in a state of shock. We have sought the state governments help to send one of the family members to New Zealand," Kumar said.
According to Suresh, Ahmed Iqbal has been living in New Zealand for over a decade and settled there.
He has two children and is said to have permanent residency of that country.
Meanwhile, India's High Commission in New Zealand was ascertaining details about the possibility of Indians being affected in the attacks amidst unconfirmed reports that nine Indian nationals were missing after the shootings.
MEA spokesperson Raveesh Kumar said that India's High Commission in New Zealand is in touch with local authorities for more information.
"Our mission is in touch with local authorities to ascertain more details. It is a sensitive matter and therefore we can't give confirmed numbers/names till we are absolutely certain," he said.
When asked about the unconfirmed reports suggesting that nine Indians are missing after the shootings, a Indian High Commission official in Wellington told PTI over phone that a team of the Indian mission was in contact with the local authorities to find out details about Indians.
The unconfirmed reports emerged after the unverified Twitter account of India's High Commissioner in New Zealand Sanjiv Kohli tweeted that there are nine missing persons of Indian nationality/origin.
'As per updates received from multiple sources there are nine missing persons of Indian nationality/ origin. Official confirmation still awaited. Huge crime against humanity. Our prayers with their families,' according to Kohli's unverified Twitter handle.