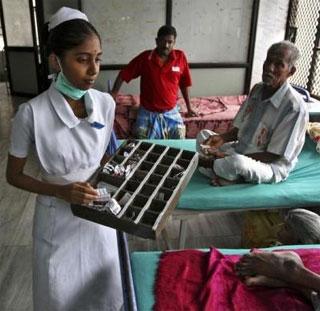 Free dialysis will be provided free dialysis for those below the poverty line as part of free healthcare for the poor, reports Veena Mani.
Union Health Minister J P Nadda said that 4,000 dialysis centres would be established across the country. The minister also mentioned that the government was working to provide free dialysis for those below the poverty line. The subsidy will be provided by the central government.
Dialysis is the clinical purification of blood, as a substitute for the normal function of the kidney.
This comes at a time when the government is working on a national health policy, where free basic healthcare for those below the poverty line will be the focus.
Some states have already invited bids to open dialysis centres in their states.
The state health department has stirred up a hornet's nest with its recent decision inviting bids to start dialysis centres in 14 state run rural hospitals in eight districts under the Public Private Partnership mode.
Andhra Pradesh too has been one of the states. NephroPlus will be providing dialysis in 13 towns.
Other states like Madhya Pradesh have also floated tenders to set up dialysis centres. The cost of each bed in a dialysis unit is around Rs 8 to 10 lakh.
Vikram Vuppula, the chief executive officer of NephroPlus, and a dialysis provider that has been teaming up with the Andhra Pradesh government, is of the opinion that the government is on the right track to provide free dialysis as in other countries.
He, however, says that there should be rules on the minimum number of beds that each centre in the PPP mode should have.
Among the other government schemes to provide healthcare for all is the latest insurance-based scheme wherein BPL families will get support from the government up to Rs 1 lakh.
The prime minister announced this scheme on Independence Day this year, which the government plans to implement from the next financial year. A cabinet note is in the making. This scheme will be replacing the Rashtriya Swasthya Bima Yojana which provides support up to Rs 30,000.
Image used for representative purposes only.