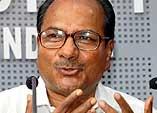 Amid concerns in the Rajya Sabha over arrest of Indian fishermen by Sri Lankan naval forces, the government on Wednesday said it is aware of the situation and will take up the matter with the island nation to protect the interest of Tamil fishermen.


"Our government is fully aware of the situation...Whenever this kind of incident has occurred, our government has taken up the matter with the Government of Sri Lanka to protect the interest of Tamil Nadu fishermen. In this case also we will try to find a solution to protect the interests of fishermen," Defence Minister A K Antony said.
Earlier, members sought immediate intervention by the government to check recurrence such incidents and demanded that the government has a relook at Katchatheevu agreement. Katchatheevu is an islet ceded by India to Sri Lanka under an agreement in the 1970s.
Raising the issue during Zero Hour, D Raja (Communist Party of India) said the government should be 'sensitive' and not a 'mere spectator' to atrocities committed by Sri Lankan forces on Tamil fishermen.
"A couple of days ago fishermen from Tamil Nadu were arrested by Sri Lankan forces and their boats were seized against all international conventions on shipping. Tamil Nadu chief minister has written to the prime minister. What steps government has taken to release them?" Raja said.
V Maitreyan (All India Anna Dravida Munetra Kazhagam) said, "Such repeated attacks are assault on the integrity of the nation."
Kanimozhi (Dravida Munetra Kazhagam) said 22 fishermen from Karavaikulam in Tuticorin in southern Tamil Nadu were taken into custody by Sri Lankan Navy but the government had not taken steps for their release.
On the other hand 'whenever Sri Lankan ships cross over to Indian border, our Navy just sends them back," she said, demanding government's intervention.
© Copyright 2022 PTI. All rights reserved. Republication or redistribution of PTI content, including by framing or similar means, is expressly prohibited without the prior written consent.