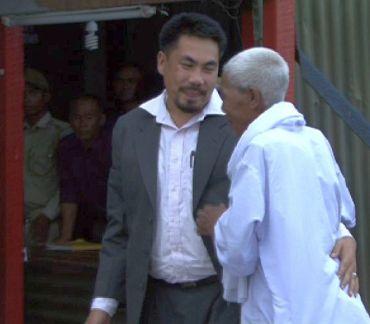 The Joint Secretary (North East), Ministry of Home Affairs, Shambhu Singh is scheduled to visit Manipur for two days to "read the mind and start the initial process of peace talks" with the recently released Kangleipak Communist Party (MC) underground outfit's self-styled military secretary Lanheiba Meitei.
Singh will leave for Imphal early morning on Friday and return to the national capital on Saturday night.
Singh had visited Imphal on June 9 and did the groundwork for the release of Lanheiba from jail and start the process of peace talks. After a long gap, a valley based insurgent outfit has finally agreed to start peace talks with the government.
KCP-MC leader Lanheiba was released from the Sajiwa central jail on July 13 and sent to Assam Rifle camp to initiate the peace dialogue. He was responsible for planting an abortive car bomb inside the governor's house in Imphal on September 19, 2007, and also Ragailong bomb explosion on October 21, 2008, which claimed 17 lives besides many other crimes.
Lanheiba was nabbed on June 28 last year from Bishnu Rabha Path of Basistha area in Guwahati. Although he was granted bail on July 9 by the National Investigation Agency he failed to furnish the requisite bail surety and as a result his release from jail was delayed for a few days.    
Talking to the media after his release, Lanheiba said that he has decided to hold peace talks with the Centre and the state governments considering the peace and stability in Manipur. He further added that peaces talks with the government would continue depending on the "honesty and sincerity of the government".
Photograph: Kangleipak Communist Party (MC) Military Secretary Lanheiba Meitei with his father soon after he was released from Sajiwa central jail in Imphal.
Vision Communications