The Centre may harden its attitude towards separatist leaders in Jammu and Kashmir, making their foreign travel difficult and scaling down the security which they enjoy at the exchequer's cost.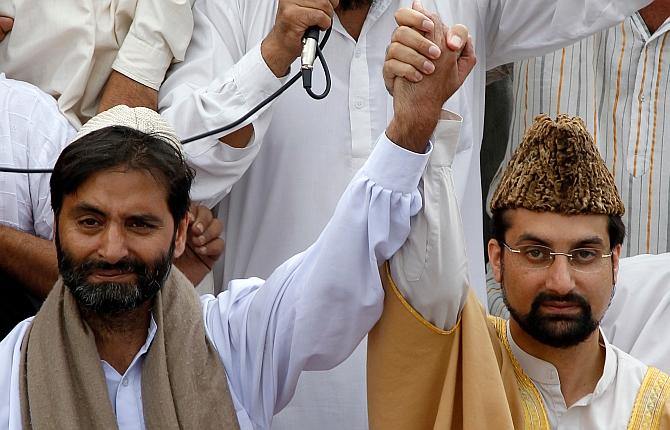 Miffed over the cold shoulder treatment given by separatists to the MPs, who were part of the all-party delegation that visited the state, the Centre is considering moves to curb their foreign travel by withdrawing their passports and denying travel documents in some cases.
Besides these, the Centre will also scrutinise their bank accounts and complete pending investigations in cases against them so a strong message goes around that those provoking youths in Kashmir Valley to create disturbance since the killing of Hizbul Mujahideen commander Burhan Wani on July 8 will not be spared, government sources said.
The home ministry's tough stand came apparently after the nod from Prime Minister Narendra Modi, who is said to have conveyed that time has come to act tough with the separatists, sources said.
The snub by the Hurriyat leaders who refused to meet some members of the all-party delegation, has upset the government to the extent of Union Home Minister Rajnath Singh saying that such behaviour was neither 'Kashmiriyat' nor 'Insaniyat'.
Communist Party of India-Marxist leader Sitaram Yechury, Sharad Yadav of Janata Dal-United, Jaiprakash Narayan Yadav of Rashtriya Janata Dal, All India Majlis-e-Ittehadul Muslimeen's Asaduddin Owaisi and D Raja of CPI had gone to meet Hurriyat leaders.
Sources said there was a feeling in the government that lack of governance was a major concern for Jammu and Kashmir and this needs to be addressed.
The central government feels that the state government is treating separatists with kid gloves and have to be tough against them, they said, claiming students, parents and the middle class were getting restless and wanted the cycle of violence to end.
The final decision on these issues, however, will be taken after the all-party delegation, which visited the troubled state, meets here tomorrow and consultations at the highest level of the government, sources said.
© Copyright 2022 PTI. All rights reserved. Republication or redistribution of PTI content, including by framing or similar means, is expressly prohibited without the prior written consent.