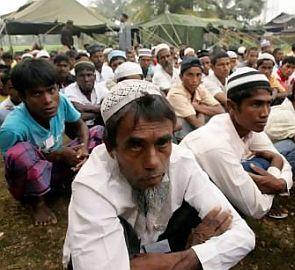 The Union Home Ministry has decided to conduct a fresh census on the Rohingya Muslims following reports that terrorist outfit Lashkar-e-Tayiba has taken up the cause of the community, which is fleeing the current wave of ethnic cleansing by the ruling Buddhist majority in Myanmar especially in the Arakan region.

Asserting that there had been a major influx of refugees in Bihar and West Bengal, the Home Ministry officials told rediff.com that as a precautionary measure, the government will conduct a census of both Rohingya Muslims and also Bangladeshis settled in India.
It has been seen in the past how Bangladesh-based terror outfits have joined hands with the Indian Mujahideen and the United Liberated Front of Assam, and used these refugees for terror activities.
According to the National Investigation Agency, the Bodh Gaya blasts was an indicator of how the likes of Rohingya Muslims could be used by terror outfits.

It was more of a warning signal and cannot be taken lightly, an NIA official pointed out.

Lashkar founder Hafiz Saeed has been vocal about this and has promised to fight their cause.

Taking into consideration the large Buddhist population in India, the LeT may try and use our nation once again, an Intelligence Bureau official told rediff.com
Over the past two years, the number of Rohingya Muslims coming into India has increased considerably. Most of them are reportedly taking shelter in Muslim-dominated areas in the country.

Officials say that apart from religion, the refugees have nothing in common with the Indian Muslims. Their way of life is completely different and hence they do not adjust too well over here.

Two years ago, according to official data, around 109 Rohingya Muslims had come to Hyderabad. However, today statistics reveal that the increasing violence in Myanmar has led to 80,000 being rendered homeless.

During a recent meeting of security officials involving the Home Ministry and the Intelligence Bureau, it came to light that around 5,000 Rohingya Muslims have settled in and around New Delhi.

Around 10,000 Rohingya Muslims are spread across Andhra Pradesh, Bihar, West Bengal and Uttar Pradesh, officials stated at the meet.

Moreover, there is also intelligence to show that some middle men from terrorist groups are trying to get in touch and assuring them of revenge.

Currently, there is nothing on record to show that any of these Muslims have gone with these terror groups, but if India is not careful then the issue could spin out of control, an officer said.
According to the IB, the Lashkar would lead the cause but it would be through their cells in Bangladesh. The outfit plans on furthering its agenda through pseudo outfits like the Jamaat-ul-Arakan and the Rohingya Solidarity Force.

The Lashkar is also in touch with radical Rohingya Muslims, who have launched independent operations in Myanmar. The Lashkar has been providing them with logistic support apart from supplying arms and ammunitions, Intelligence bureau officials pointed out.