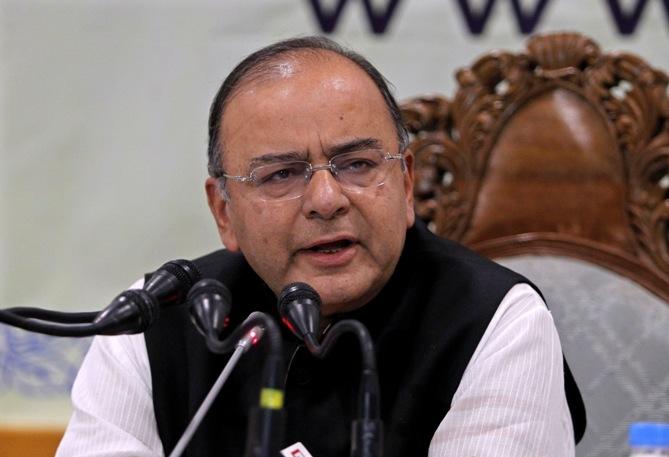 Finance Minister Arun Jaitley on Thursday raked up the Bofors case reminding Rahul Gandhi of Ottavio Quattrocchi's escape to hit back at him for his attack on the government over liquor baron Vijay Mallya leaving the country despite owing over Rs 9,000 crore to banks.
Jaitley underscored that the loans were given during United Progressive Alliance rule and said mockingly that the Congress vice president perhaps "could not understand" his answer. He also advised Gandhi to "study Constitution once" after the opposition party questioned Mallya's continuance as member of Rajya Sabha.
Debunking Gandhi's criticism on why Mallya was not stopped from leaving the country, the minister said, "There is a legal process to stop anybody. Either your passport has been impounded or there is any court order. Except that immigration cannot stop you."
"Banks have gone to the Supreme Court to take an order and perhaps in the anticipation of that he (Mallya) left before," Jaitley said when asked about Gandhi's question as to how did the government allow Mallya to leave the country.
Raking up the Bofors case of Rajiv Gandhi tenure that has haunted Congress for decades, Jaitely trained his guns on the Congress vice president.
"But Rahul ji should remember that there is a basic difference in Mallya leaving (the country) and Quattrocchi going out (of India). And let me explain him the difference.
"When the officials of Switzerland informed that Quattrocchi was also among the beneficiaries of Bofors and though the person who was heading the CBI investigation
earlier K Madhavan wrote a letter that his passport should be impounded, the then government had not stopped him and within two days he left India. That was a criminal case," the finance minister said addressing the Cabinet briefing.
Stressing that there is a difference between the two incidents, Jaitley also said that by the time Mallya left, the banks had not initiated the legal process.
"It would have been better had the banks done it earlier," he, however, acknowledged.
Responding to questions that Rahul Gandhi has accused him of not answering his questions, the Finance Minister said, "I had given dates in Parliament that all these loans were sanctioned in 2004 and 2007. In 2009, they became Non-performing asset and even after becoming NPA, it was restructured in 2010.
"If Shri Rahul Gandhi could not understand these dates and what I meant to say through them, you please help him understand this."
When asked about Congress questioning how Mallya remains a member in Rajya Sabha even after the issuance of a look out notice against him, he said, "There is a constitutional process to suspend the membership. If he (Rahul) studies Constitution once... it can happen only according to that. Membership is not terminated through press conferences."
Rahul had earlier said, "We asked Mr Jaitley to tell us how Mallya ran away from India. If there is action against him and a lookout notice has been issued against him, then what is he doing in Rajya Sabha."
Jaitley also dismissed a question on why Mallya's passport was not confiscated.
"There has to be a process. There is a law called the Passport Act under which an appropriate order is to be passed by the Passport Authority," he said.
Leader of Opposition in Rajya Sabha Ghulam Nabi Azad said that everyone knew Mallya "could flee any day" and investigating agencies should have confiscated his passport and taken steps to restrict his movement.
Jaitely said, "According to me, let the bankers take all steps to recover their money. If somebody is responsible of inaction or any other matter some facts come to notice, certainly, we will look into that and will take appropriate action."
Trying to push the government on the backfoot, Gandhi on Thursday asked how it allowed Mallya, who owes over Rs 9,000 crore to banks, to leave the country and said Prime Minister Narendra Modi and Finance Minister Arun Jaitley have failed to answer this question in their speeches.
The Congress VP attacked the government saying the entire country is questioning why this government was "helping" people like Mallya by allowing him to escape and not fulfilling its promises made to people for bringing back black money and "giving Rs 15 lakh into every person's bank account".
Replying to another question on whether the government could order a probe in Ishrat Jahan case, Jaitely merely said, "I think a debate is going on in Parliament. Home Minister is competent and he will make a statement on that."