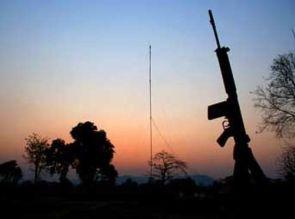 Ahead of Lok Sabha polls, the Centre today reviewed the security situation in Naxal-affected states and directed security forces to foil any attempt by the rebels to disrupt the election process.
A high-level meeting, chaired by Cabinet Secretary Ajit Seth, took stock of the current Left Wing Extremism situation and discussed threadbare the status of action taken to maintain law and order and progress of the development activities, official sources said on Friday.
The meeting was attended by Home Secretary Anil Goswami, Deputy National Security Advisor Nehchal Sandhu, Secretaries of Planning Commission, Ministries of Rural Development, Road Transport and Highways, Health, Power besides others.
Chief Secretaries and DGPs of nine Naxal-affected states -- Chhattisgarh, Jharkhand, Odisha, Bihar, West Bengal, Maharashtra, Andhra Pradesh, Madhya Pradesh and Uttar Pradesh -- participated the meeting through video conferencing.
Paramilitary and state police forces deployed in anti-Naxal operations have been directed to tighten security and keep an extra vigil to foil any attempt by the extremists to carry out subversive activities, sources said.
An advisory has already been sent to Bihar, Jharkhand and Chhattisgarh to tighten vigil in view of intelligence reports which suggested Naxals would try to carry out subversive attacks in the run up to Lok Sabha polls.
Worried over the plans of Maoists who may target political rallies and prominent political personalities, the Home Ministry has asked the paramilitary forces deployed in the three states to take maximum precautions and work in close coordination with the state police to foil any attempt by the rebels to disturb peace, sources said.
The intelligence inputs suggested the Naxals may carry out spectacular attacks similar to the strike on a convoy of Congress leaders in Chhattisgarh before the state assembly polls in May 2013 which eliminated several top state leaders of the party.
Nearly 30 people, including Chhattisgarh PCC chief Nand Kumar Patel and former Union Minister V C Shukla, were killed in that attack.
Besides, in 2013, there were 383 incidents of violence in Jharkhand in which 150 civilians and security personnel were killed and there were 353 such cases in Chhattisgarh where 110 people lost their lives.
In Bihar, 69 people, including security personnel, lost their lives in 176 incidents of violence in 2013.
The Home Ministry has already identified 13 worst Naxal-affected districts in Jharkhand as highly sensitive. There are eight highly sensitive districts in Chhattisgarh and five highly sensitive districts in Bihar.
Image used for representation purpose only