Congress leader Digvijaya Singh on Tuesday claimed a senior railway official had flagged a fault in the signal interlocking system in February and warned of the train accident risk but the problem was not rectified which led to the Balasore train crash.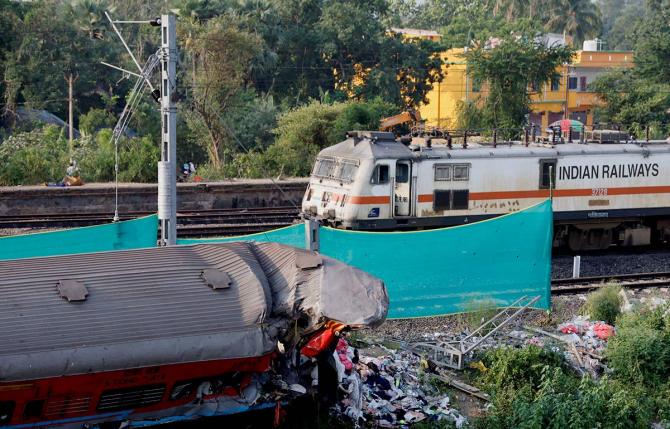 The accident involving two passenger trains and a goods train claimed 278 lives and left more than 1,100 people injured.
The Central Bureau of Investigation (CBI) is probing the alleged criminal negligence leading to the train accident.
"Balasore train crash is the biggest rail accident in independent India. In the initial statement of Railways, the cause of the accident was stated as a fault in the interlocking signal system," Singh claimed while speaking to reporters in Indore.
A senior railway official, in one of his letters written in February, had clearly warned about the major risk of train accidents due to a fault in the interlocking signalling system and highlighted the need for its immediate rectification and improving this system, the Rajya Sabha member claimed.
"Because of the failure to fix this problem in time, a terrible rail accident occurred in Balasore," he alleged.
Singh claimed that the number of railway derailments in the country rose steadily in India since 2014 (when Narendra Modi became prime minister) whereas the budget allocation for maintenance and safety measures in railways is decreasing.
"At the same time, a lot of money is being spent on the bullet train project (between Mumbai and Ahmedabad) whose ticket is beyond reach for the poor man. The condition of Vande Bharat trains is such that its engine becomes useless due to collision with a cow," he said.
Singh also claimed that the Comptroller and Auditor General of India (CAG) had tabled a report in Parliament on measures to bring down railway derailments in the country, but it was never discussed by the government in Parliament.
"There was a time when Lal Bahadur Shastri had resigned as railway minister just over a normal train accident," he said in a veiled attack on incumbent Railway Minister Ashwini Vaishnaw.