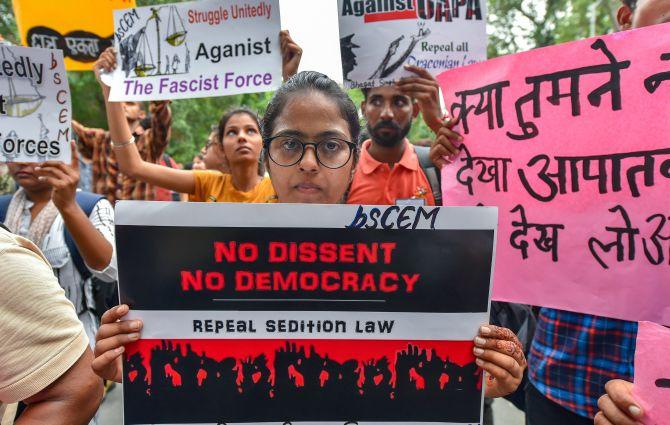 The Shiv Sena has dubbed as 'stupid' the Maharashtra police's claim that the five arrested Left-wing activists were involved in an alleged Maoist plot to overthrow the Modi administration.
The Bharatiya Janata Party's carping ally said the police assertion about security threat to Prime Minister Narendra Modi from Maoists was just a 'conspiracy theory'.
The Uddhav Thackeray-led party said Modi's security remains robust and there is no need to worry on that front.
'The government should stop stating that these so called Maoists could potentially topple the sitting government at the Centre. This is a stupid statement,' the Sena said in an editorial published in its mouthpiece Saamana, Monday.
'Manmohan Singh's (Congress-led United Progressive Alliance) government was brought down by the people of this country not by Maoists or Naxalites. In recent times, governing parties were changed through democratic process alone,' the Marathi daily said.
The saffron outfit asked the police to exercise restrain while making claims.
'Had these Maoists possessed power to topple governments, they would not have lost control in West Bengal, Tripura and Manipur.
'The police (must) exercise restrain while making claims or else Modi and the BJP will be ridiculed once again,' the Sena cautioned.
The party, which has ministers in the BJP-led governments in Maharashtra and also at the Centre, said there is nothing to worry about Modi's security.
'Another conspiracy theory of the police is about threat to the life of Prime Minister Narendra Modi. His security is of very high standard and there is nothing to worry about,' the party said.
'(Former prime ministers) Indira Gandhi and Rajiv Gandhi had an element of adventurism (in them), which went wrong and they lost their lives. (However), Modi would not engage in such adventurism,' said the Sena publication.
The saffron party also took a dig at the people who have been criticising the arrest of five Left-wing activists late last month for alleged links with Maoists.
'Urban Maoists' are involved in philosophising the acts of Naxals in remote areas of Chhattisgarh, Telangana, Andhra Pradesh, West Bengal and Odisha.
Naxalites run their own parallel governments in remote areas and several people, including government officials and Congress leader Vidya Charan Shukla, have lost their lives in attacks carried out by them, the Sena said.
'These were the same people who instigated the violence at Koregaon-Bhima (a village in Pune district on January 1, 2018). They want to create some unrest in every state and are hardly bothered about democracy. Their thoughts are violent,' the editorial read.
'People like Varavara Rao, Arun Ferreira, Sudha Bharadwaj, Gautam Navalakha and Vernon Gonsalves (all arrested last month for alleged Maoist links) enjoy high social standing.
'Mao is from China and whoever attempts to topple the government there is put behind bars or disappears. In our country, such people get support.
'From Congress president Rahul Gandhi to Sharad Pawar (Nationalist Congress Party), Prakash Ambedkar (a Dalit leader) to Akhilesh Yadav (former Uttar Pradesh chief minister), all are strongly supporting these people.
'If these people are facing charges of plotting to kill PM Modi, how can anyone support them?' the party asked.
Maoist sympathisers take a different stand when it comes to the arrest of right-wing activists in connection with the killing of rationalists Narendra Dabholkar, Govind Pansare and journalist Gauri Lankesh, it said.
'They are willing to accept Hindutvawadis or right- wing supporters as terrorists but (for them) Maoists mean intellectuals and rebel poets. Having such double standards is in itself sedition,' the Sena said.
The party also slammed Congress leader and former Union Home Minister P Chidambaram over the phrase 'saffron terror'.
'Chidambaram has rejected the urban Naxal terminology. He claims it is an attempt to divert peoples attention from the Rafale jet deal, failure of note-ban and other burning issues. But it was he who supported saffron terror terminology a few years back and defamed Hindus,' the Sena said.
Naxalism is a far more serious security threat than terrorism in Jammu and Kashmir as it is weakening the country from inside, the party said.
© Copyright 2023 PTI. All rights reserved. Republication or redistribution of PTI content, including by framing or similar means, is expressly prohibited without the prior written consent.