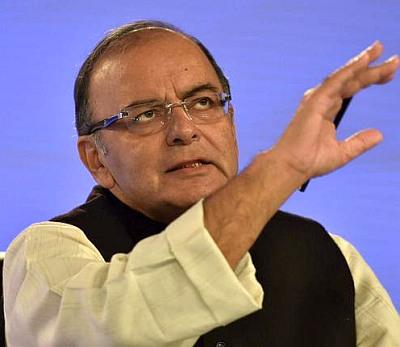 Identity of 427 account holders abroad has been established and 250 of them have admitted to having accounts, Finance Minister Arun Jaitley revealed on Wednesday while asserting that the government is on the right track in bringing back illicit money stashed abroad.
Replying to a debate on black money in the Rajya Sabha, he said the government will "pro-actively chase" those having black money and will not rest till the last account is identified.
Bringing back black money stashed abroad is a procedure which will take time, he said while responding to attack by Opposition which questioned non-fulfillment of the poll promise of BJP leaders of getting the illicit money back in 100 days.
He, however, did not respond to the Opposition attack on Prime Minister Narendra Modi for reportedly saying in the run up to elections that each person will get Rs 15-20 lakh if all the black money is brought back.
Members of Congress, Trinamool Congress, JD(U), Samajwadi Party and CPM, staged a walkout even before Jaitley could conclude his reply.
During the discussion in both Rajya Sabha and Lok Sabha, Congress alleged that BJP had "sold lies" and misled the nation for which the government should apologise.
Spelling out the steps being taken by the government, Jaitley referred to the HSBC list of 627 account holders received by the government and said identity of 427 of them has been established. 250 of them have admitted to having accounts, making the government's task easier, he added.
Replying to opposition criticism, he said, "We have done more in 100 days than what other governments had done."
The confidentiality clause prevents disclosure of names of foreign account holders unless prosecution is launched against them in a court of law, he noted.
Jaitley said more prosecutions are going to be filed in the coming weeks with regard to people figuring in the HSBC list, who are suspected to have illicit accounts there.
"We are on a learning curve... The government is going to be on the right track even if it takes extra time," the finance minister said and suggested that the government was even willing to change laws if required to bring back black money.
Talking about the 427 accounts identified, he said the government is in the process of their assessment and notices are being sent to them.
"We will be extremely pro-active in chasing these people. It is a procedure that will take time but we will have foolproof procedure," the Finance Minister said.
Responding to questions over what had been done to bring back black money, he said in the very first meeting of the Modi Cabinet in May, a decision was taken to set up a Special Investigation Team, a proposal regarding which had been pending since July 2011.
The government, he added, has handed over all the documents relating to black money to the SIT which will be submitting its second report to the Supreme Court by the end of this month.
On demand for disclosure of names of account holders, he said, "the question is not whether to disclose the name but how and when to disclose them".
He, further, said that premature disclosure of names would help the account holders as it would prompt countries to refrain from providing information.
The government will not follow "suicidal" course by disclosing the names, Jaitley said, adding it could only be a "one-day thrill".
"We have to disclose the names in a very prudent and thoughtful manner," he said.
India has 92 Double Taxation Avoidance Agreements with various jurisdictions and except one with Romania, all have confidentiality clauses, Jaitley said.
He said India is in the forefront of global efforts to fight the menace of black money for automatic exchange of tax information.
The initiatives have been taken at various fora like G20, OECD and FATCA (Foreign Account Tax Compliance Act) being proposed by the US.
He said the US is signing agreements with various countries for automatic exchange of information and if India does not do so, it will not be able to get information from the US as well as others who sign such agreements.
He said India has a choice of joining the mainstream or walk lonely. "We are going to have automatic exchange of information," he added.
Jaitley said the government has held discussions with Switzerland for sharing of information on Indians having illegal accounts in Swiss banks.