The prime minister's gifts to the temple are estimated to cost Rs 4.09 crores!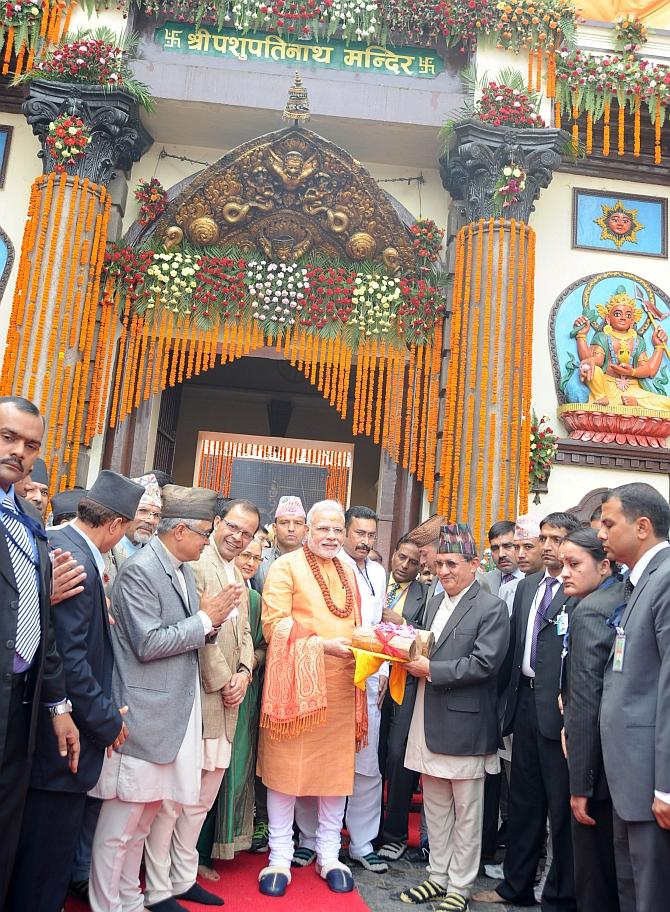 Prime Minister Narendra Modi broke the Himalayan freeze that had descended on ties with Nepal during his recent visit to that country.
The first prime minister in 17 years to undertake a bilateral visit to Nepal, Modi won hearts and friends during his two-day visit. He addressed the Nepali parliament -- only the second global leader to do so, the first being then German chancellor Helmut Kohl in 1990 -- where he spoke of India's HIT policy towards Nepal: H for highways; I for info-ways; and T for transways.
He also announced a $1 billion concessional line of credit for Nepal for various development purposes.
Apart from these, during a visit to the famous Pashupatinath temple in Kathmandu on Sunday, Modi also offered 2,500 kilogrammes of sandalwood and 2,400 kg of ghee to the shrine.
White sandalwood, according to the Web site of the Cauvery Handicrafts Emporium, a Karnataka government enterprise, costs Rs 16,000 a kg. So Modi's gesture of offering 2,500 kg of the precious wood, comes to around Rs 4 crore (Rs 40 million).
At Rs 390 a kg, the value of ghee offered to the temple works out to Rs 936,000.
The cost of sandalwood and ghee thus works out to around Rs 4.09 crores (Rs 40.9 million).
Interestingly, there is no mention in the government's press releases if Modi intended these as a personal or governmental gesture.
When quizzed about who would foot the Rs 50 lakh bill, a senior government official confirmed that it would be borne by the Government of India and described the gesture as India's "bhaktibhaav se arpan (an offering to God with India's devotion)."
But that the issue was far from clear is evident from a senior journalist's remark that the cost will be borne by the prime minister from his personal funds, not in one go but spread over three to four years.
According to his election affidavit filed from the Varanasi Lok Sabha constituency, Modi's personal finances amount to Rs 65,91,852, the bulk of it being in various bank deposits amounting to Rs 58,54,383. Apart from this, he also declared a property in Gandhinagar, Gujarat, worth Rs 1 crore (Rs 10 million).
Image: Prime Minister Narendra Modi at the Pashupatinath Temple in Kathmandu, Nepal, on August 3, 2014. Photograph: Press Information Bureau.