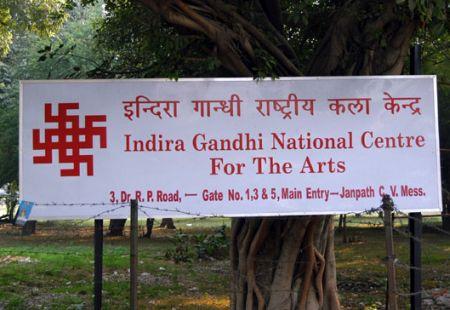 The government on Thursday reconstituted the board of Indira Gandhi National Centre for the Arts, appointing senior journalist Ram Bahadur Rai as the president of the trust.
Rai, former news editor of Hindi daily Jansatta, replaces Chinmaya Gharekhan.
The reconstituted trust of IGNCA, an autonomous institution under the ministry of culture, will be functional with immediate effect, an official statement said.
Besides Rai, the trust comprises 19 other members including classical dancer Sonal Mansingh, lyricist Prasoon Joshi, artist Vasudeo Kamath and union culture ministry secretary.
The ministry has also appointed Dr Sushmita Pandey, head of School of Studies in Ancient Indian History, Culture and Archaeology in Ujjain's VikramUniversity, as chairman of National Monument Authority.
Meanwhile, Gharekhan, a former Indian diplomat, downplayed the reconstitution of the trust saying "there is no mystery" in it as he noted that "all successive" governments have done the same in the past.
"There is no mystery about it. The board of trustees is always appointed by the government. The government has every right to reconstitute the board, change its composition any time it wants to. And all successive governments have done this," he said.
Gharekhan said such a move was expected "for a long time" after the National Democratic Alliance came to power and wondered why the reconstitution did not happen despite the Bharatiya Janata Party-led coalition being at the helm of country's affairs for nearly two years now.
IGNCA was established in 1987 as a centre for research, academic pursuit and dissemination in the field of the arts.
Speaking on the reconstitution of the board of trustees, Tourism and Culture Minister Mahesh Sharma said it is something "not done for the first time" and noted similar moves were made in 2000, 2004 and 2007.
"See it's a continuous process. Change is a continuous process. As part of that, this change has been brought," Sharma said.
The minister said the government hopes to "take forward, promote and preserve" the country's culture, heritage, art and literature in the wake of the "change".
He also lauded the new IGNCA head, Rai, and said he has been associated with thoughts of Mahatma Gandhi and Jayaprakash Narayan, besides being a "noted" journalist.
"All the 20 people (named) in the list as trustees are experts in their (respective) fields," he added.
The other members of the board are Chandraprakash Dwivedi, Nitin Desai, K Arvinda Rao, Bharat Gupta, ex-chairman Khadi Village Industries Commission Mahesh Chandra Sharma, M Seshan, Rati Vinay Jha, Nirmala Sharma, Harsh Neotia, Padma Subrahmaniam, Saryu Doshi, DP Sinha and Viraj Yagnik.
The board also has additional secretary and financial advisor of culture ministry and member secretary, IGNCA as trustees.