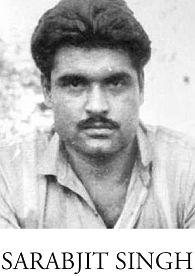 The Bharatiya Janata Party on Thursday criticised the government for its approach towards the cause of Sarabjit Singh, who passed away at a hospital in Lahore.
"We will raise Sarabjit Singh's death in both Houses of Parliament and take the government to task for its failure to protect the life of Sarabjit, who languished in Pakistani jails before he was moved to Kot Lakhpat jail in Lahore," Mukhtar Abbas Naqvi, member Rajya Sabha told rediff.com.

"It is a cold blooded murder. This is not the way civilised nations behave," BJP leader Sushma Swaraj wrote on microblogging site Twitter.

Another BJP leader, Shahnawaz Hussain said that Sarabjit should be given the status of martyr and that his last rites should be in accordance with his status.

Harsimrat Kaur, wife of Deputy Punjab Chief Minister Sukhbir Singh Badal and Shiromani Akali Dal MP, said Sarabjit's death had exposed the UPA government and blamed it for not taking the initiative to secure his release.

The government, meanwhile, has decided to make a statement on the issue in Parliament.

"We are ready to make a statement in Parliament and tell the people what steps we took to seek the release of Sarabjit from Pakistan jail. We are going to ask the BJP what steps did the NDA government take when they were in power," senior official in PMO told rediff.com.