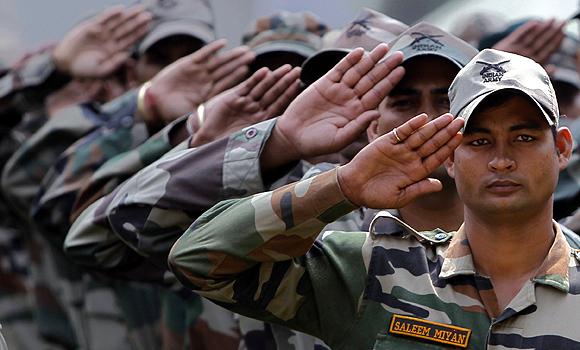 The decision will entail additional expenditure of Rs 130 crore per annum, reports Ajai Shukla.
Soldiers, sailors and airmen of the three defence services will be paid salaries recommended by the 7th Central Pay Commission. The new scales will be paid with effect from January 1, 2016.
In June 2016, the Cabinet had approved 7CPC scales for civilian employees with effect from January 1, 2016, resulting in additional financial outgo of Rs 84,933 crore. However, the three service chiefs had requested that payment be made to defence personnel only after an anomalies committee resolved the military's representations against the 7CPC recommendations.
While the military's three key requests have not been addressed in this award, Defence Minister Arun Jaitley revealed two significant concessions in a press briefing in New Delhi on Wednesday.
First, disability pension for soldiers would henceforth be paid at the same scales as civilians. The generals had protested the 7CPC order that disability pensions be paid to the military at a flat slab rate, rather than as a percentage of salary. This had sharply reduced the disability pensions almost across the board.
"The Cabinet also approved the retention of percentage-based regime of disability pension implemented after 6th CPC, which the 7th CPC had recommended to be replaced by a slab-based system," said a government notification.
This would involve an additional outgo of Rs 130 crore a year.
Second, a modified method of calculation will increase the pension of servicemen who retired before 2016, benefiting over 5.5 million pensioners. This involves an additional payout of Rs 5,031 crore for 2016-17, which would increase this year's pension allocation of Rs 85,740 crore.