The Narendra Modi government on Saturday announced acceptance of the long-pending demand for 'One Rank One Pension' but the ex-servicemen who have been on agitation rejected the key details of the decision and said their 84-day long stir will continue.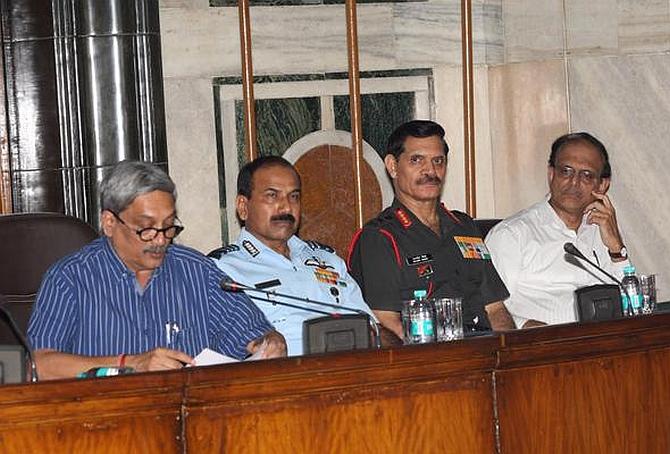 Ex-servicemen, pressing for 'One Rank One Pension' for nearly four decades, on Saturday won a partial victory with the government announcing that it would implement it, but the veterans rejected the decision and decided to continue their agitation.
Defence Minister Manohar Parrikar told reporters that OROP, that implies uniform pension for armed forces personnel retiring in the same rank with a same length of service, would be implemented from July 1, 2014, on the basis of calendar year 2013.
The pension would be revised every five years and defence personnel who take voluntary retirement will not be covered, Parrikar said, adding that a one-member judicial committee would be constituted to report within six months after examining various aspects of the "complex issue".
Arrears, estimated to cost between Rs 10,000 crore to Rs 12,000 crore, would be paid in four half-yearly instalments. However, all widows, including war widows, will be paid in one instalment.
Ex-servicemen, who have been on an agitation for the past 84 days, took no time in rejecting the government's announcement and declaring that they will continue the stir. They also announced a massive rally on September 12.
What has riled the ex-servicemen is the decision to review the pension every five years instead of two years for which they were willing to settle. Another objection pertained to leaving out ex-servicemen who had gone for premature retirement.
Another sticking point is the setting up of a one-member judicial committee which will examine interest of retirees of different periods and different ranks. It will also address inter-service issues.
Instead, ex-servicemen want a committee with five members, including three of them, to report within 30 days.
Rejecting the government's announcement, Maj Gen (retd) Satbir Singh said, "Government has only accepted one of our demands and rejected six. They have gone back on their promises. We have no option but to continue our agitation."
Singh, who has been spearheading the agitation, accused the government of "resorting to gimmicks" due to upcoming Assembly polls in Bihar.
He said the hunger strike will be withdrawn if the government gives the OROP benefit to those who have opted for premature retirement.
Top defence ministry sources said interest of those armed forces personnel who had to take VRS due to injuries will be protected.
Expressing dissatisfaction over government's proposed benefits under OROP, Singh said, "We do not accept the decisions not to give OROP benefits to those who have taken premature retirement."
The defence minister said the cost to implement OROP would be Rs 8,000 crore to 10,000 crore and it will increase further.
"Despite the huge fiscal burden, given its commitment to the welfare of ex-servicemen, the government has taken a decision to implement the OROP," Parrikar said.
Close to 26 lakh retired servicemen and over six lakh war widows stand to be immediate beneficiaries of the scheme.
Explaining the provisions, he said pension will be "re-fixed for all pensioners retiring in the same rank and with the same length of service as the average of minimum and maximum pension in 2013. Those drawing pensions above the average will be protected."
He said the one-member judicial committee would examine various issues including interests of retirees of different periods and different ranks and other inter-service matters.
"We also disapprove of setting up of one-member judicial committee. It should be under Defence minister and not given more than one month," said Singh.
Defence ministry sources said government will come out with a detailed order on OROP within next one month.
Parrikar said the government has held extensive consultations with experts and ex-servicemen and decided to implement OROP despite the huge financial burden.
"The previous government had estimated that OROP would be implemented with a budget provision of mere Rs 500 crore. The reality, however, is that to implement OROP, the estimated cost to exchequer would be Rs 8,000 crore to Rs 10,000 crore at present and will increase further in future," Parrikar said.
Read Defence Minister's complete statement below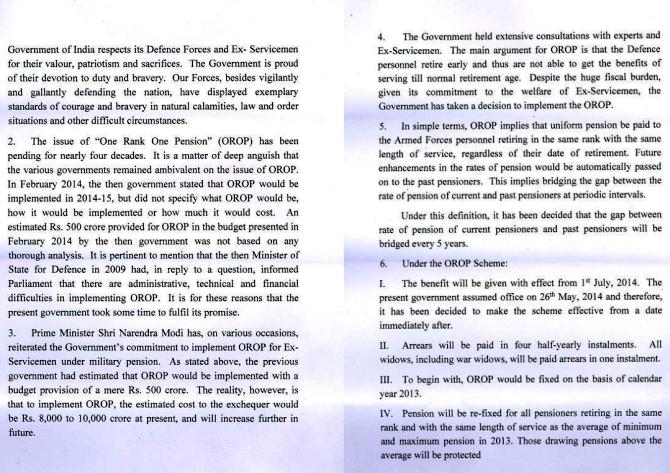 Also Read:
'Even if the PM grants OROP, the trust is fractured'
'To compare bureaucrats to those in armed forces is laughable'
'Don't call OROP stir an agitation; this is our satyagraha'
'The years in service were the best days of my life... until now'